Politics
Trending
Anita Hill Compares Ruth Bader Ginsburg's Legacy To Thurgood Marshall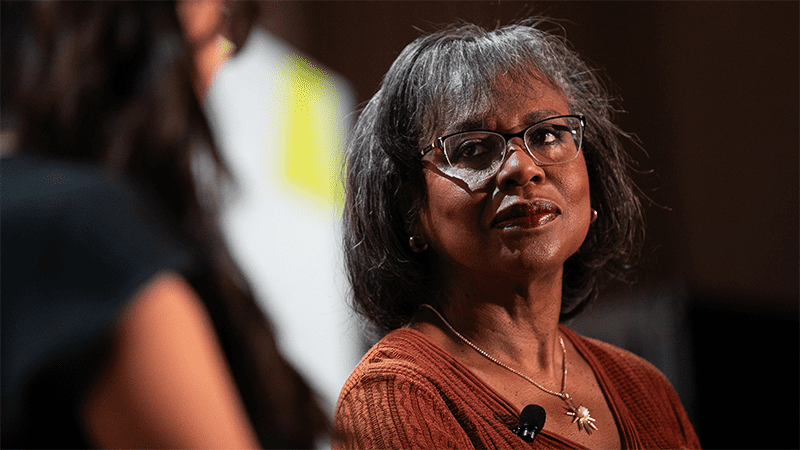 Anita Hill, the prominent lawyer and advocate against harassment, gender, and racial discrimination, recently shared her thoughts about the enormous loss of Ruth Bader Ginsburg, Supreme Court Justice and pioneer for women's rights. 
With the division caused by Trump's brisk decision to replace Ginsburg with Amy Coney Barrett, Hill believes that the process should be thoughtful, clear, and thorough.  "I think it's a rush," Hill said in an exclusive interview with Variety. "And I think it's a rush that does a disservice, not only to the Court, but to the people who will come before the Court."
In regards to Ginsberg's legacy, Hill believes that her most momentous contribution was fighting for the rights of women in the legal system. "In terms of her legal practice and time on the Court, she defined gender equality, in a way that no one else has," said Hill. "She was very outspoken about the need to really align the real-lived experiences of women with the law. I think that is a tremendous contribution. Other people will define her contributions differently, but for me, her work that aligned real life with the law with rights is what I think was so special about her life, and that is the legacy that we have to continue to build on."
Hill also pointed out the conspicuous parallels between Thurgood Marshall and Ruth Bader Ginsburg. "When Thurgood Marshall left the bench and was replaced, and now Ruth Bader Ginsburg left the bench and will be replaced, what we lost were two people who had represented individuals to develop rights and to embrace rights when they had no rights," she said.
"I think they were both very special to us in being there on the Court to be those voices of the people who had been completely marginalized and had been left out of equal protection, and to make sure they were brought in. Now, we have to make sure that they stay in."