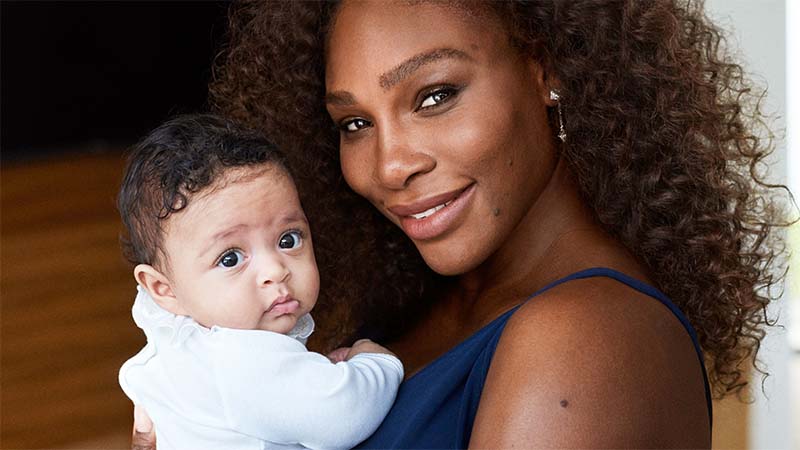 The HBO series Being Serena offers a look inside the private life of the most decorated, talented, and courageous athlete of our time, Serena Williams.  In a matter of what feels like only two years, she has become a mother, wife, and continues to be a dominating force on the tennis court.  Being Serena explores her journey from pregnancy to motherhood to marriage.  From being amazed that her pregnancy workout is ten times more intense than that of my non-pregnant self, to being touched by her willingness to vulnerable, this special offers a rare glimpse into the life of the woman, not just the athlete.
While it is not outside the realm of possibility that people are complicated beings, to witness the nuances of their complexities for yourself is an entirely different experience.  One of the things I have really come to appreciate thus far about the series, is the way it really highlights the star's softer side, especially considering how she has been mislabeled an angry black woman who displays unsportsmanlike conduct.  However, there are many people who understand her performances of passion, her tenacity, and desire to win as the characteristics of a champion, one who faces insurmountable odds based on her race, gender, body type, etc. I am one of those persons, and I am grateful for the opportunity to learn more about this amazing human being.  Thus, I have decided to highlight the moments on screen within the first few episodes that I feel really show us the sweet, compassionate, and determined woman that Serena is.
1. Her Father's Absence From Her Wedding
As Serena dresses for her special day, she receives a text from her father an hour before the wedding saying that he would that despite being in town and having a suit, he would not be able to make the ceremony.  Unlike many of us who would be very upset and/or feel slighted, Serena enacts an unspeakable compassion towards her aging father. She replies to his message, "Daddy it's okay, if you don't want to come to the wedding at all, that's okay too. I'm not going to be upset with you about it, so I don't want you to be upset about it."  Mr. Williams, who suffered from a stroke a year or so prior to recording this special, has been battling health issues that have made him not feel so much like himself and seemingly results in a bit of social anxiety.  The fact that Serena is able to recognize her father's struggles on one of the most important days of her life that she wants to share with all she loves, is a true testament to her selflessness as well as the confidence that she has in her familial bonds. I cannot say I would have responded with such grace and compassion, but I am happy to have witnessed what I believe is only a small glimpse into her big heart.
2. Her Commitment to Being a Good Mother
The series begins with a pregnant Serena, continuously expressing her concerns about birthing a healthy child and being the best mother she can be.  In one of the segments she tells the camera, "I want to make sure that I'm the best and that I am good enough." For a woman who has fought off death, and the obstacles that have tried to get the way of her achieving her dreams, this honest conversation reminds us that at the end of the day, she possesses some of the same fears as everyone else.  Once her baby is born, we watch as she coos and cuddles her newborn daughter. In a particularly touching moment, she sings "How Far I'll Go" from the Disney movie Moana.  I believe this is the same tune that is sung while Serena walks down the aisle to meet her groom.  As she returns to the court, we watch her as she pumps before playing and vocally expresses concern about being able to play the sport she loves and still produce enough milk for her daughter.  Watching Serena balance her desire to get back to being the champion of the tennis world and to be a great parent, gives us a glimpse into a more fuller version of the woman we love.
3. Her Relentless Pursuit of ALL Her Dreams
While we currently exist in world where more and more women are creating pathways to pursue their aspirations as a mother and career woman, there is still a lot of judgement cast on those who choose to do both.  As Serena states, "Now just because I'm 36 and I have a baby am I supposed to lower my expectations? That's not something I'm used to doing." Despite a very dangerous birthing experience that resulted in blood clots and surgeries, Serena does not let that stop her from pursuing a full life, complete with a baby, a husband, and tennis.  Only seven weeks post-birth she is back on the court, this time serving, something she has not been able to do since she won the Australian Open while pregnant.
Serena's willingness to express her frustration, fears, and worries about her ability to master life both on and off the court is refreshing and relatable.  While returning home from the hospital, carrying her beautiful daughter in her carseat she confesses, "Im supposed to be the strongest athlete, and I don't feel like it right now."  Her openness allows us to see her courage as despite these emotions she continues to push forward.  She debunks the popular narrative that to be a woman means to sacrifice, and in doing so she serves as a powerful inspiration to women everywhere.