Devin T. Robinson X Will Perform His One-Man Show, 'Black Men: Naked Truth' In Atlanta
By Devin T. Robinson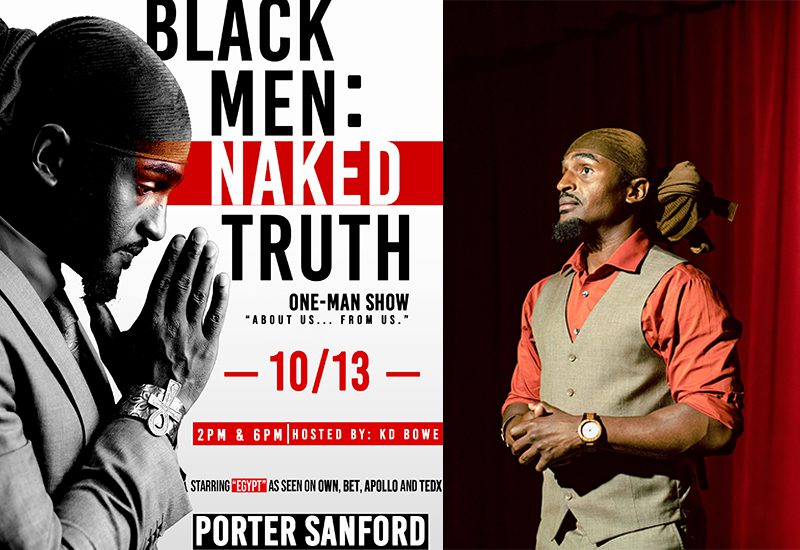 Historical ingredients for Black male representation in the media are as follows: Six dashes of Misunderstood but Violent Thug; one sprinkle of a Misguided Fatherless Child; 12,000 pounds of Broken Slave; two cups of Boring and Chronically Single Good Guy with three teaspoons of Compassionate Detective.
Last but not least, the chef cannot be an average Black man. He cannot be a sane, married man who is in a healthy relationship and educated. No, no…If so, the recipe will fail and maybe, just maybe, the image might inspire rather than psychologically destroy.
All sarcasm aside, this is my reality. Black men rarely write our stories or create our images. This is a traditional occurrence and I could spend my life being upset about this, or I could change the presentation myself. Which I did, one stage at a time.
Black Men: Naked Truth one-man show is the ONLY one-man show that celebrates good Black men. During the hour long show, all images, words and comedy are designed to be encouraging to Black men. It is not boring or corny in any way, shape or form.
This show is a mixture of acting, spoken word and stand–up comedy with a splash of motivational speaking designed to contribute an introspective look into the daily grind of being a good Black man.
The National Black Theatre Festival (NBTF) selected this show for their 2017 schedule of events. This prestigious honor is only awarded once every two years. During the NBTF, Black Men: Naked Truth received several sold–out shows. Why? People were tired of seeing Black men portrayed as the aforementioned. They wanted something new, got it, and loved it!
The Black community is the true hero in this epic. Without droves of African Americans dispelling myths of our desire to only see sad, goofy or historically demeaning images of themselves, Black Men: Naked Truth would not be successful.​​
On October 13th, Black Men: Naked Truth makes its 5th appearance in Atlanta inside the elegant Porter Sanford III Performing Arts and Cultural Center. In addition to the show, we have the Mocha Match ®. A pre-show where good Black men pitch themselves to women. This gives women a chance to meet good Black men and for those men to showcase themselves.​
​History is made by those who aren't satisfied with the present. Black Men: Naked Truth is proof anyone who is fed up with something, no matter their circumstances, can change the future…by altering the present. Don't believe me? A Black man with no mom, dad, and who entered college as an orphan did. So can you.
For ticket information, please visit blackmennakedtruth.com.