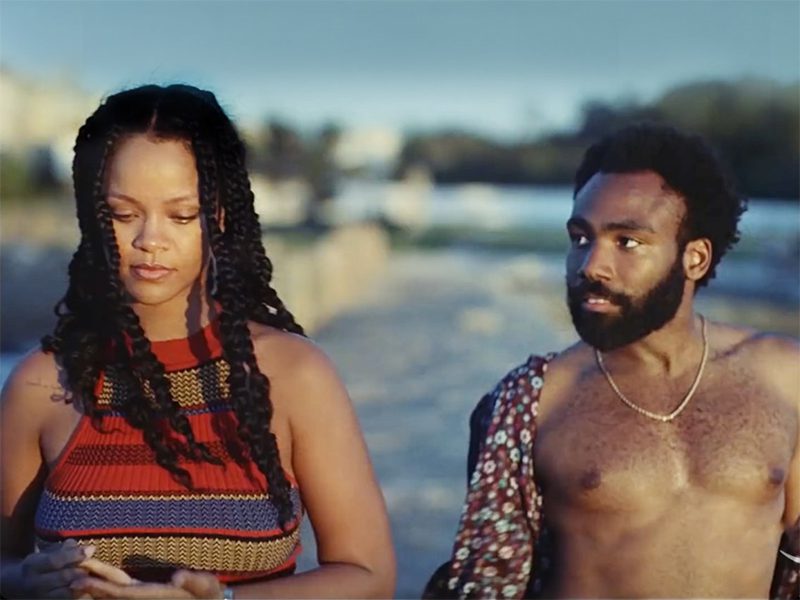 In his latest venture, Guava Island, Renaissance man Donald Glover (aka Childish Gambino) shares the screen with Rihanna and Letitia Wright (Black Panther) to bring forth a tale of black cultural expression and the power of art. Guava Island tells the story of musician Deni (Glover) and his passion for music inspired by his muse and romantic partner Kofi (Rihanna). Through his music, we witness his commitment to his lover and his community and how they create tension with the capitalistic powers that drive the island's economy. 
Guava Island feels like every place and no place. It feels like an amalgamation of island cultures with its variance in clothing, language, and rituals, with its residents speaking several forms of English and Spanish. The people of Guava struggle with financial security in a predatory economy that exploits on working class's labor to ultimately support the upper echelon. Nevertheless, it is a vibrant place. Everyone is looking forward to the upcoming festival seemingly organized by Deni, the beloved musician, and radio DJ. In one of the beginning scenes, Deni travels through spaces greeting everyone as he makes his way to the radio station where he works, playing his own original songs and singing radio adverts. Inspired by Purple Rain and City of God, Guava Island feels like an extended narrativized music video filmed in a beautiful place. Glover performs songs from his most recent album, including his critically acclaimed "This is America." These songs are woven into the film's narrative structure and make use of the space as it extends our understanding of the characters and the importance of the music and the pending celebration on the island. Visually stunning, musically interesting, with an odd yet delightful structure, Guava Island is an intriguing watch that leaves one contemplating not just the piece itself but its overall message. 
In the short film, Deni is dragged to a meeting with Red, the business tyrant who controls a lot of the island. Red orders Deni to cancel the festival; the exploiter is concerned that people will be party late into the night and miss work the next day, interfering with production and profit. While keeping mum in his presence, upon leaving Red's office, it is clear that the musician has no intention of calling off the musical celebration. Later that night, while performing, he is run offstage by a gunman who eventually catches and murders him. The next day, Red travels to his various businesses to find them completely vacant. He eventually happens upon a homegoing service complete with vivid decorations and lively music. Mourners carry Deni's body through the streets in an open casket hoisted above their shoulders as they sing and dance. Rihanna spots Red and says to him something about the people getting their day off from work anyway. 
With this conflict between Deni and Red that ends in a tragedy, it appears, at the very least, that Glover is making a statement about the power of art and the complicated role of the artist's function as liberatory activists in a political system founded on the bondage of its citizens. Deni pays the ultimate sacrifice and is murdered for his unwillingness to acquiesce; he chooses his commitment to his people over the fear of vindictive corporations. 
Watching this fictionalized story on the heels of the death of the beloved rapper, entrepreneur, and community activist Nipsey Hussle makes all too real the challenges explored by Glover in his latest work. While Glover explores many themes in this piece, it is the question of the artist's role in his community that seems to resonate. Does being an artist mean having an unwavering commitment to the communities that birthed you? How do you honor that commitment while facing personal strife – even death? While posing these questions is generative in itself, if we were looking for an answer, Hussle's life and legacy serve as a blueprint guided by an unapologetic and transformative love of and for his people.