In 'Someone Great,' The Immense Pain Of Heartbreak Is Actually Dealt With In An Authentic Way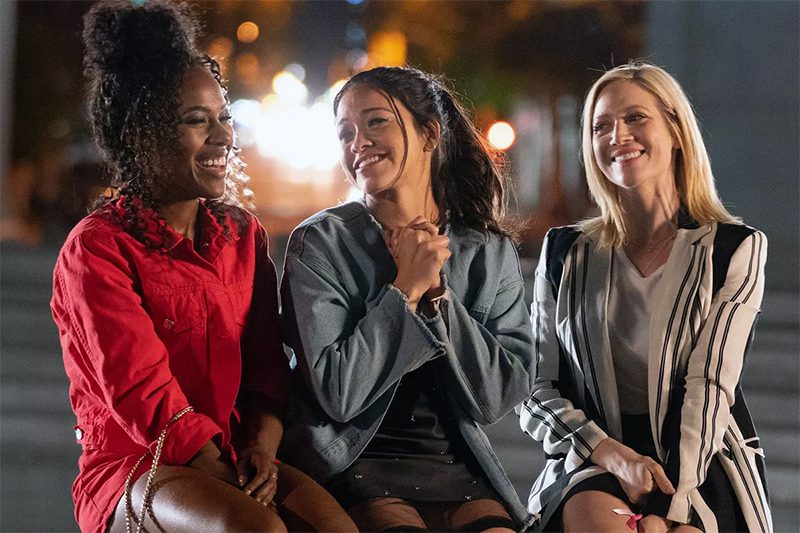 Netflix's Someone Great gives a new meaning to romantic comedies. Gone are the days of cheesy and predictable plots, although there's absolutely still a space for the classic rom-com. We're entering a new era in film that speaks of self-empowerment and owning your pain.
Written and directed by Jennifer Kaytin Robinson, Someone Great stars Gina Rodriguez, Lakeith Stanfield, DeWanda Wise, and Brittany Snow. It follows music journalist Jenny Young (Rodriguez), who must come to terms with the devastating end of her nine year relationship with Nate (Stanfield). With help from her two hilarious best friends, Jenny must learn the art of new beginnings after unexpected and heartbreaking changes.
How Jenny copes with the breakup is so painfully relatable. I've been there quite a few times, and while I may not have visibly displayed my pain as much as Jenny, I could feel her aching heart, particularly through her facial expressions and the frequent gazes off into the distance, indicating deep moments of reminiscing. In Someone Great, the suffering is demonstrated more through non-verbal cues, which makes the film understandable on a universal level. Anyone who has ever experienced a broken heart can immediately empathize with the agony written all over our protagonist's face.
And then there's that one scene, which completely ripped my heart open. During a musical festival, Jenny is adamant about approaching Nate, despite her friends' advice not to. As she desperately and painfully searches for his face in the crowd, Jenny stops in her tracks when she finds him. With their eyes only, the former lovers share one of the most vulnerable moments I've ever seen on-screen. Fragily, she mouths an "I love you" to Nate, and then makes the courageous decision to walk away rather than approach him any further. It is the moment in which she officially chose herself.
In this modern-day love story, there is no Prince Charming waiting for Jenny next door. And as much as we may hope for it, there's also no getting back together for Nate and Jenny. Why? Because it is raw and real, and a narrative that many of us can finally relate to. Someone Great is not another story about how to get your ex back, or how to find the perfect rebound to help conceal the pain rather than confront it. And while there are certainly heavy moments, it is above all a lighthearted film about genuine friendship, and what it means to accept, forgive, and love yourself first.