Arts & Culture
Books
Trending
Literature Exhibition 'Toni Morrison: Sites of Memory' On Display At Princeton Through June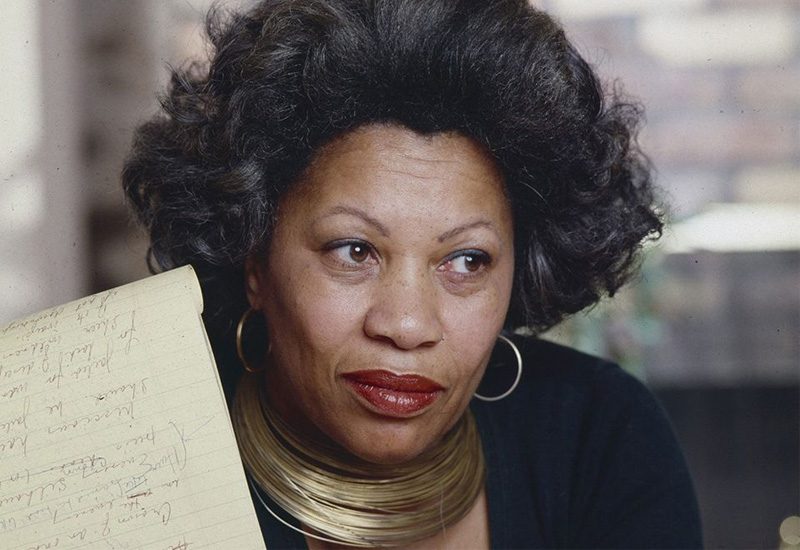 At Princeton University Library, a groundbreaking Toni Morrison exhibition is on view until June 4th. Curated by Princeton professor Autumn Womack, "Toni Morrison: Sites of Memory" unearths the creative process of the late renowned author, and explores how Morrison's expansive archive continues to inspire and influence in a timeless manner.
In 1993, Toni Morrison became the first (and only) Black woman to receive the Nobel Prize in literature. This exhibition celebrates the 30th anniversary of that achievement. She was also only the second Black woman to become a professor at Princeton back in 1989, where she taught for 17 years. Morrison now has a building dedicated to her at Princeton––Morrison Hall––where curator Autumn Womack, who teaches literature and African American studies, works.
According to Princeton's website, the exhibition "anchors a series of programs that include an art exhibition at the Princeton University Art Museum's Art@Bainbridge with the renowned artist Alison Saar; newly commissioned performances responding to Morrison's work presented by McCarter Theatre and Princeton University Concerts; a landmark three-day symposium that brings together over thirty writers and artists to reflect on Morrison's relationship to the archive; public tours of Sites of Memory; children's programming; a spring lecture series; and undergraduate courses on Morrison's work."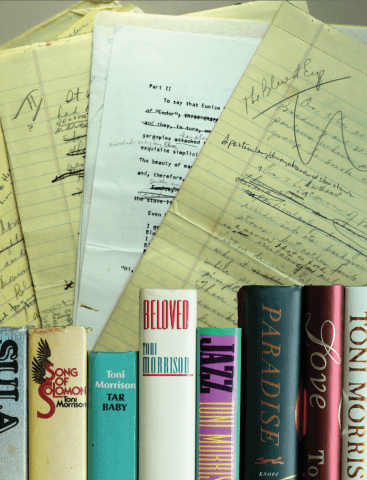 Burned and water damaged pages of Morrison's words are found throughout the exhibition, which were caused by an accidental house fire in 1993. Archivists salvaged as much as they could of Morrison's work, wrapping every surviving page in Mylar. "I wanted visitors to think about the archive as something that is both fragile but also endures," curator Womack told NPR in conversation.
Womack had more than 400 boxes of material to choose from for the exhibit. Out of this, around 100 archival items were ultimately selected. "I really do believe that archives and collections are always telling us new stories. The day before the show opened, I was still adding and taking things away, much to the joy of the archivists," she said. The gallery features diary entries, photographs, correspondence and lists that originate from Morrison's childhood years, and even unreleased recordings and drafts of her famous manuscripts such as Sula, Beloved, and Song of Solomon.
"It is difficult to overstate the importance of Toni Morrison's writing to American literature, art, and life. This exhibition draws us toward the unexplored corners of her writing process and unknown aspects of her creative investments that only live in this archive," said Womack in the exhibition's statement. "In imagining this initiative—from exhibition to symposium to partner projects—I wanted to show the importance of the archive to understanding Morrison's work and practice. But I also wanted to show how this archive in particular is a site that opens up new lines of inquiry and inspires new kinds of collaboration."
Performers were commissioned by McCarter Theatre Center to create works based on the archives. In one, Mama Diarra Speis (founder of Urban Bush Women) and the Guggenheim-winning theater artist Daniel Alexander Jones joined forces.
Jones described the opportunity to delve into the archives of Morrison, one of the greatest writers in American history, as a spiritual experience. "She gave us codes and keys to deal with everything we are facing right now," he said to NPR. "And if you go back, you will receive them. There are answers there."
"There is not a corner of Princeton University, Black creative life, and cultural production that Toni Morrison has not impacted," said Womack. "This initiative, we hope, will begin to bring to the surface new aspects of that wide impact.""Toni Morrison: Sites of Memory" is on display through PUL exhibitions through June 4th. For ticket information, visit library.princeton.edu.
---
As an independent magazine with a small team, we rely on the support of our readers to keep JARO's content free and accessible to everyone. Please support our ability to continue delivering the best of the African Diaspora with a donation as little as $1. Thank you!