Arts & Culture
New Louisville Exhibition Highlights Black Avant-Garde Artist Robert L. Douglas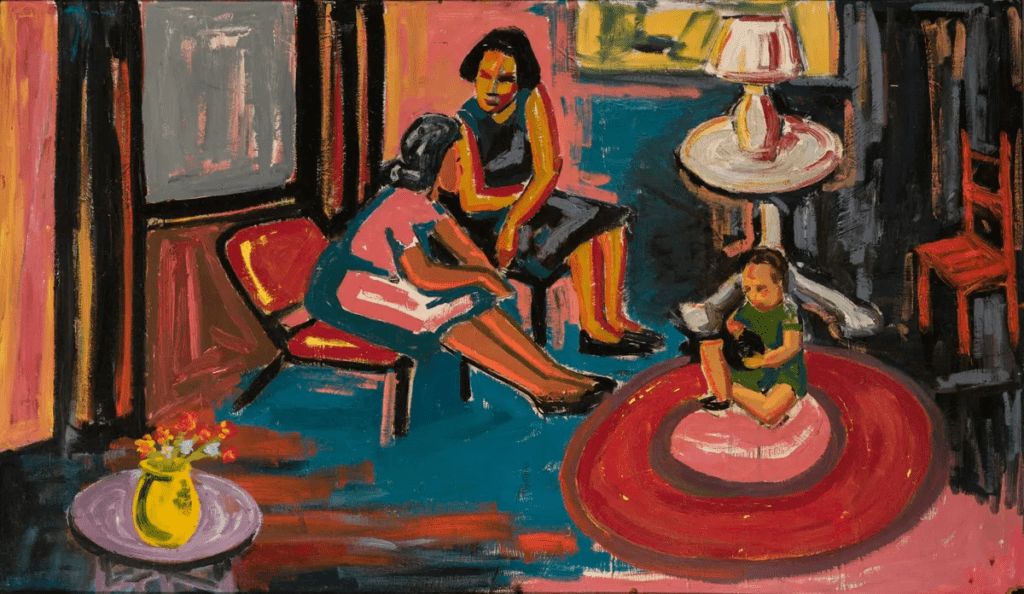 The late Robert L. Douglas, an esteemed artist hailing from Louisville, made a profound impact on the art world throughout his extensive career spanning over six decades. Renowned as a master draftsman, painter, sculptor, and mentor, he inspired generations of artists and scholars.
In 1967, Douglas co-founded the Louisville Art Workshop, a crucial platform for artists of color in the city. This unique space provided regular opportunities for artists from across the state and region to exhibit their sculptures, photographs, poetry, creative writing, music, and theater.
"What made this space liberating was that Black creativity was the standard and it was not beholden to nor controlled by white norms and social/political mores; and further, the art-making didn't focus on generating profit or revenue," Speed Art Museum Curator of Academic Engagement and Special Projects fari nzinga told Forbes.
Inspired by revolutionary art theory and the Civil Rights movement, Douglas and his contemporaries recognized the power of art to empower marginalized communities. They understood that the mainstream art industry often denied them resources and platforms to showcase their work.
Despite his exceptional talent and experience, Douglas initially encountered discrimination in the broader Louisville arts scene due to unfair hiring practices. However, the Speed Art Museum is currently honoring his legacy through a new exhibition titled "Louisville's Black Avant-Garde: Professor Robert L. Douglas," which will run until October 1, 2023.
The exhibition features over 30 rarely seen paintings, drawings, prints, and sculptures, showcasing the breadth of Douglas's artistic practices and the ongoing relevance of his work in reflecting and examining the Black community in Louisville.
Raphaela Platow, the Executive Director at the Speed Art Museum, emphasizes Douglas's transformative role as an artist and mentor to countless aspiring artists. She acknowledges the historical oversight of Douglas and other Louisville artists who dedicated themselves to fostering the city's artistic community, often overlooked by major institutions. The Speed Art Museum aims to rectify this exclusion.
"Louisville's Black Avant-Garde" is the first major institutional exhibition exploring the collective influence of the Louisville Art Workshop.
It seeks to shed light on the core members and leaders who have frequently been overlooked in the narrative of American art history. This exhibition marks the beginning of a series delving into the pioneering artists behind the Workshop, those who mentored and shaped the artistic landscape not only in Louisville but also in major cities across the United States.
While artists like Gilliam and Ed Hamilton gained national recognition, this exhibition offers a comprehensive exploration of the Workshop's overall impact.
Douglas stood not only as an exceptional artist but also as a community leader, providing a haven for marginalized artists who were often excluded from traditional gallery spaces and institutions like the Speed Art Museum. He exhibited their artwork, mentored emerging talents, and nurtured a vibrant artistic community. Moreover, he steadfastly championed the representation of Black artists.
"Without understanding the legacy of Robert L. Douglas, his contemporaries shaping Louisville's artistic community, and the throughlines of these two major Louisville collectives, one cannot grasp the full picture of the American art landscape," nzinga said. "It is simply incomplete on a local and national level. The artists affiliated with this period have lived with these histories, and these exhibits offer one way to recenter attention to their art and legacy, as well as introduce a wider audience to the lasting impact of this moment in our art history."