Trending
Shop: BLK MKT Vintage Celebrates And Examines Black Culture Throughout The Decades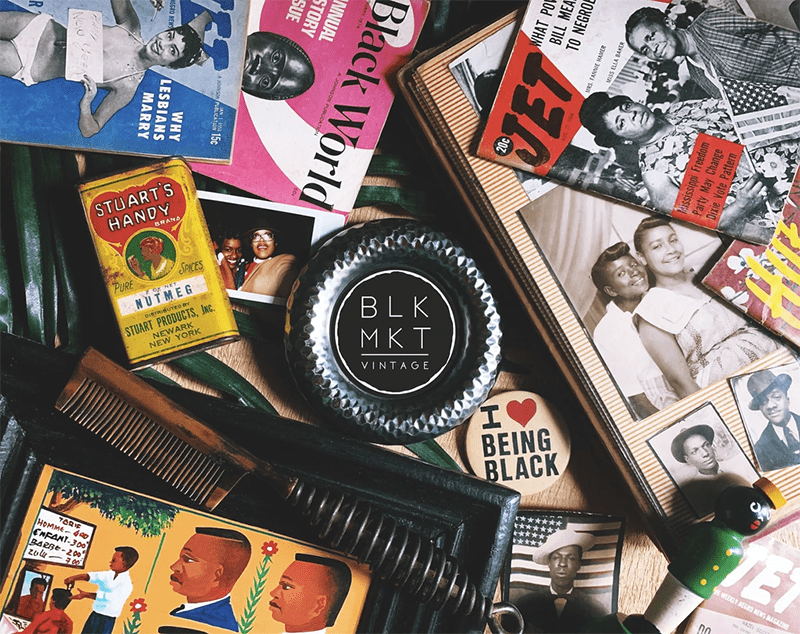 For Black History Month, we're highlighting impressive Black-owned businesses that should be on your radar. 
BLK MKT Vintage, located in Brooklyn, New York, was founded by Kiyanna Stewart and Jannah Handy in 2014. Combined, the two have over 15 years of collecting experience and a deep passion for items rooted in blackness.
The wonderfully eclectic store is a carefully curated collection of black collectibles and vintage, timeless items, which "represent the richness of black history and lived experience." 
Browsing through their ever-changing inventory, you'll find one-of-a-kind art, vinyl records, clothing, home decor, vintage literature, and more. Yet some items, such as the anti-black Golliwog dolls, may leave others uncomfortable. 
"I think some folks want it to be this very clean, 'black girl joy, black boy joy, black person joy' collection when, for me, it's about representing the fullness of who we've been," Stewart said in an interview with Conde Nast. "That does really mean, exploring, holding onto, and giving access to some items that are not going to evoke joy."
Online, you'll currently discover pieces such as an antique book by Paul Laurence Dunbar, various Black magazines from the 1970s, Nikki Giovanni vinyls, and even an Angela Davis WANTED by the FBI poster. 
The BLK MKT Vintage store is brand new, located in the Brooklyn borough where they both grew up. "The store is new terrain but it was important to us because we wanted a sense of stability and permanence," said Stewart. "That's so important to black folks' history throughout the diaspora. We're providing a space that does the items justice."
Support and visit BLK MKT Vintage by visiting blkmktvintage.com. To stay up to date with their inventory and more, follow @blkmktvintage on Instagram. 
View this post on Instagram