Arts & Culture
Trending
Simone Elizabeth Saunders' Vibrant Textile Art Emanates Black Femininity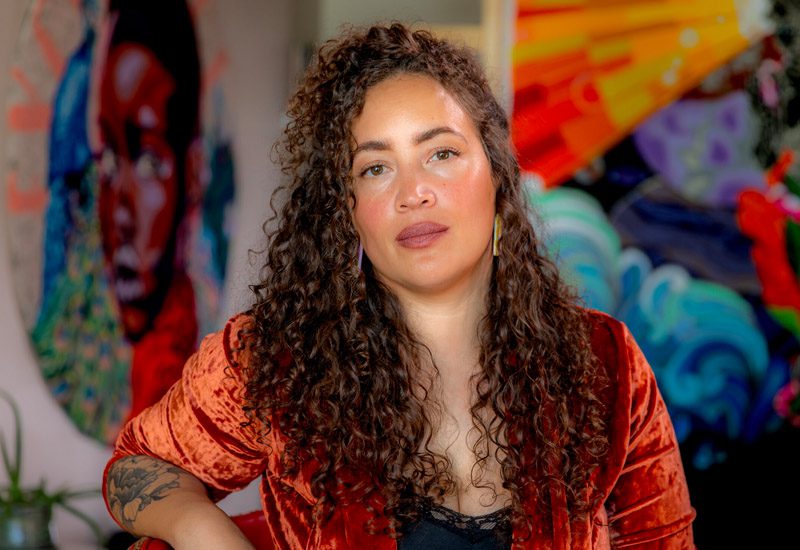 Simone Elizabeth Saunders is a Jamaican-Canadian textile artist that utilizes rug-making techniques and a tufting machine to create her opulent and colorful portrait art. Saunders' work features prominent motifs from her Jamaican heritage and serves as a statement of power being reclaimed from oppression. Through her portraits, she further elevates narratives of Black joy and resilience.
Her textiles exude the themes of Black femininity, beauty, and womanhood, as shown in The Four Queens series. "Black Power," "Black Dreams," "Black Magic," and "Black Love" presents four individualistic Black women sitting confidently in their power and grace, with exquisite scenes of color and pattern functioning as their backdrop. As revealed in the close up, Saunders' attention to color placement and detail is what creates such stunning, vivid, and dynamic imagery.
"I celebrate the wins. I know the darkness in this world, so do you. It can drag us down. And when I post, positive messaging is key for me. To share light and love and to look at the world as vibrant and colourful as it can be….It's reflected in my textiles, to uplift narratives often tethered to dark undertones, with the gift of bright hues. I'm not asking anyone to "smile", because life will hurt. But hold onto your light… keep grasp of your love," wrote Saunders on Instagram.
Saunders' work has been featured in exhibitions such as the Minneapolis Art Institute, North Carolina's Mint Museum, Contemporary Calgary, the Alberta Craft Council for the Arts, and Art Museum University of Toronto. To stay up to date with upcoming exhibitions, please visit her website at simoneelizabethsaunders.com or via Instagram @simoneelizabethtextiles.
The artist feature for Simone Elizabeth Saunders was originally published on Colossal. View their publication here.