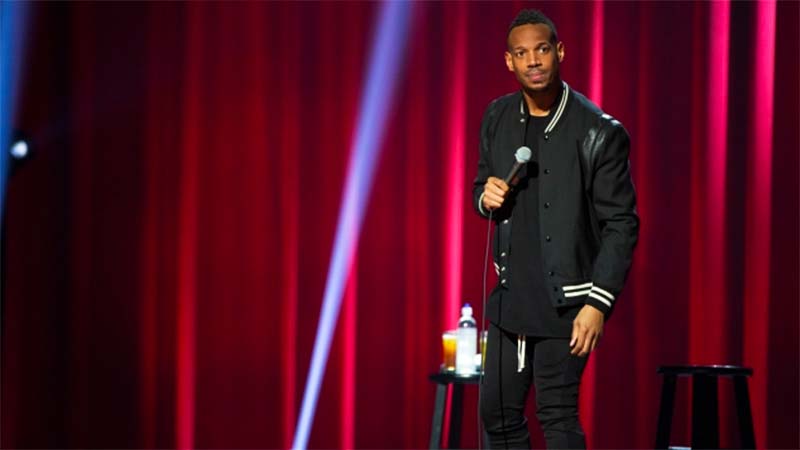 Full disclosure.  Over the last few years, I have become quite the stand-up snob.  In my humble opinion, not everyone does it well. To be fair, it is probably the most difficult form of comedy to master.  On the other hand, as a little girl I had a crush on Marlon Wayans. I remember watching him on The Wayans Brothers and laughing at his funny faces and crazy contortions.  So with a great appreciation for this artform and a soft spot in my heart for the youngest Wayans brother, I reluctantly must say, Marlon is not a stand-up.
His new stand-up special is a direct reflection of his famous hyper personality.  With rapid fire energy, Marlon bounces from bit to bit, leaving audience members amazed that the 45-year-old still has so much energy.  At times this vitality is refreshing and entertaining, and at times it can be quite dizzying.  Ultimately it points to one of issues with his stand-up, the imbalance in his timing.  There are moments where he dedicates so much time to a joke that it loses its pop. For example, his bit on rap lyrics that are age-appropriate for the entertainers that perform them is actually quite humorous, but he provides too many examples, details, and tangents for it to hit as hard as it could.  
In fact, his joke about not being able to understand the lyrics to Desiigner's "Panda," leads to a very long aside comparing the sounds the rapper makes in the song to the sound he would make while having his butt waxed.  Legs cocked open as he sits on the stool, Marlon describes the pain and pleasure prone area of his body for what feels like forever, before jumping back into the original joke. To be clear, I am not a prude person. I am all for vulgarity if it makes a point.  Not saying that he doesn't, but that the payoff does not match the time spent. Or maybe it is because I am not a guy and I do not possess a gooch. Who knows?
Despite an imbalance in his timing, Marlon does propose some funny and original ideas.  In one bit, he proposes that each "potentially racist cop" should be paired with an African American woman cop.  However, while this a novel idea that has the potential to produce some laughable and insightful moments, his depiction of the proposed duo unfortunately relies too heavily on the use of stereotypes of African American women without revising them.  The idea was ripe, but it falls short in its execution. This rings true of other jokes in the special including his take on white people passing Nigga Immigrations in order to receive their visa to use the "n-word." Another one of his talents includes the way uses his entire body and every muscle in his face to bring his jokes to life.  It is the moments where he is using his body to communicate that really resonate and make audience members laugh.
In my opinion, his funniest moment is when he jokes about the Kardashians ruining the world, one black man at a time.  He then pitches a proposed satire of Get Out starring Kim, Kanye, Lamar Odom and Caitlyn Jenner.  This example illustrates Marlon's gift for sketch and satire.  I am not one to try to box in one's creativity. I do think Marlon is quite funny and definitely talented;  Stand-up is just not the best medium to display his comedic talents.