Arts & Culture
The Mint Museum's 'Vault' Exhibit Celebrates Prominent Black Art Collectors In Charlotte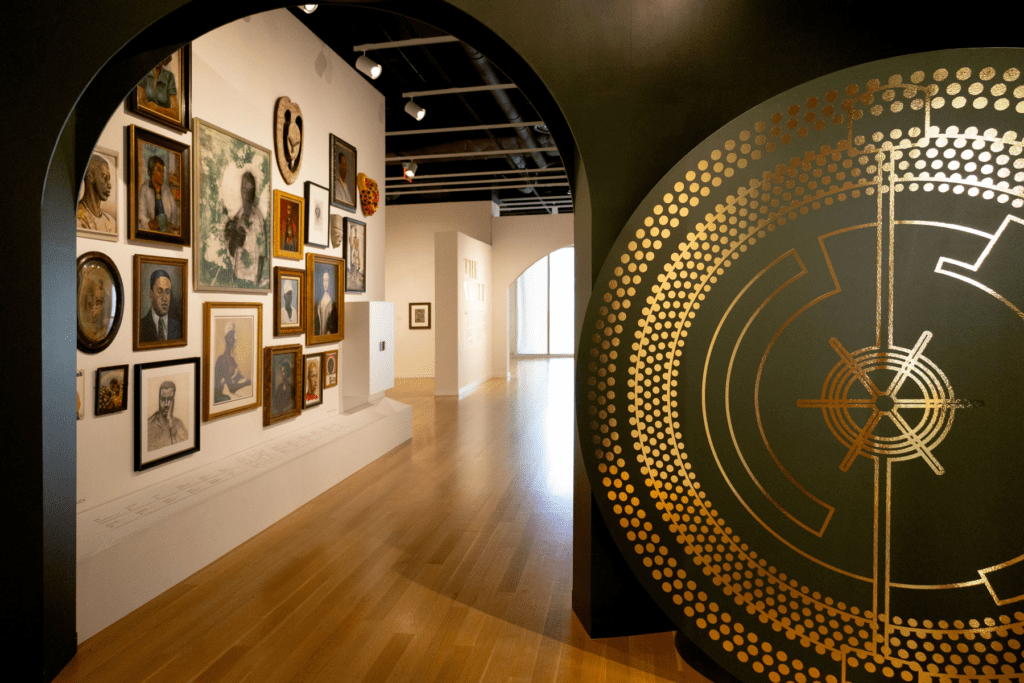 The Mint Museum in Charlotte is currently hosting a captivating exhibition called "The Vault," curated by Jessica Gaynelle Moss. This exhibition brings to light the private collections of four distinguished Black art collectors in Charlotte: Judy and Patrick Diamond, Nina and James Jackson, Christy and Quincy Lee, and Cheryse and Christopher Terry. The showcase presents a diverse range of collector theories and methodologies, offering unique perspectives on the art-collecting process.
At the core of the exhibition's mission is to foster a deeper understanding and appreciation for Black art and culture, along with its associated stories and experiences.
The works on display encompass masterpieces by renowned Black artists of the 20th century, from Charlotte-born Romare Bearden to Elizabeth Catlett and Jacob Lawrence.
Among the hundreds of objects featured are ephemera such as magazines, vintage photography, furniture, vinyl records, and a remarkable collection of Black Santa figurines. Moss notes that race has historically played a significant role in determining equity, ownership, and rights in the United States, and the forced migration experienced by many Black individuals throughout the African diaspora has left a profound impact on their sense of history and belonging.
In 2018, Evan Beard, the National Art Services Executive at U.S. Trust, Bank of America Private Wealth Management, penned an article titled 'The Four Types of Art Collectors' on Artsy, classifying art collectors into four general groups: The Connoisseurs, The Enterprising Collector, The Trophy Hunter, and The Aesthete. Interestingly, the four Charlotte-based collectors featured in The Vault each embody one of these distinct categories, aligning with Beard's framework:
Cheryse and Christopher Terry, The Enterprising Collectors, might not have initially considered themselves collectors, but their research-based archival practice suggests otherwise. The Terrys are true custodians of the history, culture, and nuanced narratives of the artists in their collections. They feel a profound duty and responsibility to protect Black artists and preserve Black culture. Rejecting the notion that art history should be confined to art historians, they take on an enterprising approach, aiming to challenge traditional canons and redefine art history through their collecting efforts. The exhibition will feature over 30 afro picks, hundreds of magazines, records, toys, advertisements, and other culturally specific and historic ephemera from their collection.
Christy and Quincy Lee, The Trophy Hunter, leverage their art collection to achieve significant accomplishments during their lifetimes, intending to leave a lasting legacy after their passing. Their impressive collection includes works by various Black artists, transforming their home into a treasure trove of rare historical, artistic, and cultural treasures. Visitors to The Vault will be captivated by the talent and history showcased on every wall, as well as the fascinating stories behind each acquisition. The Lees actively participate in auctions, making the art acquisition process akin to a thrilling sport. The exhibition will showcase works by artists such as Albert Wells, Charles Alston, Bryan M. Wilson, Juan Logan, Antoine Williams, and J. Stacy Utley.
Judy and Patrick Diamond, The Connoisseurs, initially started collecting art as a casual hobby, but their passion has blossomed into a lifelong dedication. Over the last 48 years, they have meticulously assembled a prestigious collection of Black art, featuring pieces by some of the greatest artists of the 20th century, including Romare Bearden and Elizabeth Catlett. Their acquisitions are methodical and rarely driven by financial gain, and they maintain close friendships with the artists whose works they collect. Visitors to The Vault will have the opportunity to view works by artists such as Hale Woodruff, Jeanne Moutoussamy-Ashe, John Tweedle, Margaret Burroughs, Elizabeth Catlett, and Nellie Ashford.
Nina and James Jackson, The Aesthete, possess a unique eye for aesthetics, drawing them to objects that evoke a visceral response. Their collecting philosophy is not driven by financial status but by a desire to emphasize storytelling and personal histories. As avid patrons of the arts, they frequently attend museum events and openings, but they also find joy in exploring the shop scene rather than traditional galleries. Their exhibition at The Vault will feature paintings by Thomas James "T.J." Reddy, prints by Kerry James Marshall, and an extraordinary collection of over 50 Black Santa Claus dolls and figures.
"The Vault" at the Mint Museum offers an enriching and immersive experience, celebrating the distinct art collecting philosophies of these four exceptional Charlotte-based collectors and shedding light on the richness and diversity of Black art and culture. It runs through Sept. 17th.
For ticket information, visit the Mint Museum's official website.