Arts & Culture
Trending
WATCH: Faith Ringgold On Art And The Power Of Perseverance
In a new segment with CBS Sunday Morning, the prominent multimedia artist Faith Ringgold spoke with Nancy Giles about her fruitful artistic career that has spanned seven decades.
Widely known for her signature quilts which explore narratives that depict African American life, Ringgold's 70 years of creative work found its humble beginnings in the early 1960s. Much of her art has ignited necessary political conversations throughout the decades, especially concerning the rights of Black women.
Now 90 years old, Ringgold reflected on her decades-long fight to be seen and heard as a Black woman artist. "I constantly looked for the galleries that accepted Black artists. If they asked and they said no, it didn't bother me because I expected to hear no," she said.
Ringgold's unwavering determination to succeed as a minority woman artist despite the naysayers is precisely how she found prosperity. "I think that there was a lot of feeling at that time that we can't do this, we can't do that. Oh, yes we can. We can do it. All you've got to do is try."
For Ringgold, succeeding as an artist meant that she would create on her own terms and experiment as she pleased. Her artwork must always be the truest expression of herself; she was never in the business of creating art that must not offend, even if it resulted in frequent rejection from galleries. She has a voice to use, and art to make that empowers, examines, and calls for change. Absolutely nothing could abate her mission as both an artist and activist.
"As an artist, I want to tell my story of the times – what I've lived through; what we're going through now. Often, people don't want to see that… but I don't do what people want to see; I do what I can," said Ringgold in a 2019 interview with Arwa Haider.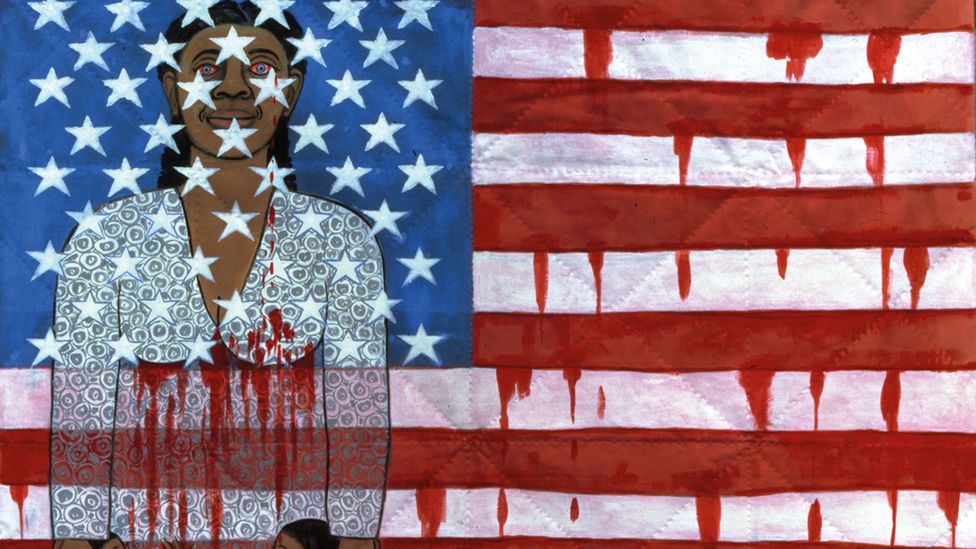 "If she wanted to do something, she was not going to let anything stand in her way. Whether that was experimenting with different kinds of media or technique, she was going to do it no matter what," said Emily Rales, the art curator of Glenstone museum where Ringgold's works are currently on display. "Each decade brought a new innovation. One of the things I feel really defines her practice is this fearlessness to take on anything."
The current survey exhibition that includes six significant decades of Ringgold's artwork is on view until October 24th at the Glenstone museum in Potomac, Maryland. Titled Faith Ringgold, it features over 70 works that highlight the artist's various mediums, including paintings, story quilts, and political posters.
Learn more about the exhibition by visiting Glenstone's official website.