Watch: This 1898 Silent Film Captures The First Depiction Of Black Love On-Screen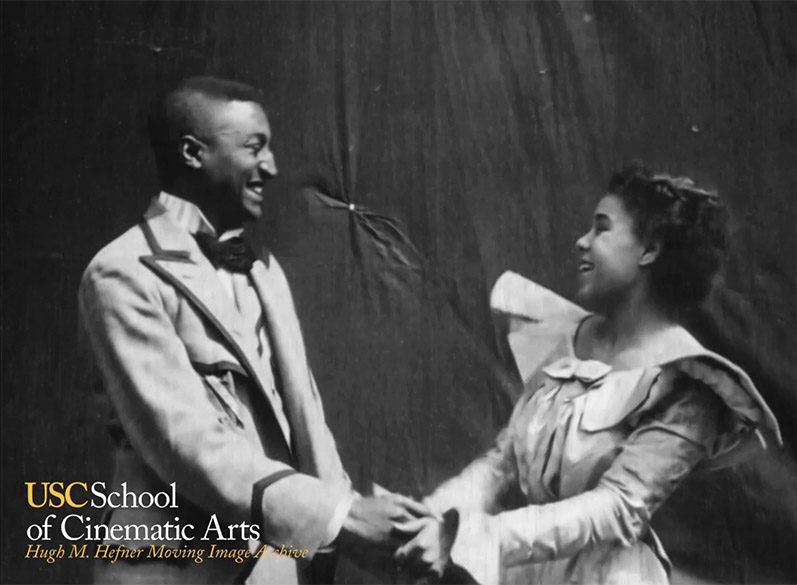 In 1898, two black actors shared an intimate moment through a playful silent film that depicts the first on-screen display of affection between African Americans.
Titled Something Good – Negro Kiss, the 21-second silent picture film features dance partners and vaudeville actors Gertie Brown and Saint Suttle. Recently uncovered by film scholars at the University of Chicago and the University of Southern California, this discovery is significant as there are few surviving examples of black actors in cinema from the earliest days.
The film opens with a kiss from the two lovers, and we watch as they pull back with a smile. They kiss twice more in the most lighthearted of ways while swinging their arms back and forth.
Allyson Nadia Field, an expert on African American cinema who helped identify the film, spoke to the University of Chicago about its significance. "There's a performance there because they're dancing with one another, but their kissing has an unmistakable sense of naturalness, pleasure, and amusement as well," she said. "It really is striking to me, as a historian who works on race and cinema, to think that this kind of artifact could have existed in 1898."
This simple moment of intimacy between two African-Americans occurred during a time period where blackface and extreme racism was highly prevalent. "This artifact helps us think more critically about the relationship between race and performance in early cinema. It's not a corrective to all the racialized misrepresentation, but it shows us that that's not the only thing that was going on," said Field.  
With sound, the short film breathes new life. A user on Twitter transformed the silent film by adding a delicate score from Barry Jenkin's new movie, If Beale Street Could Talk. The music effortlessly captures the love and innocence shared between the two, and this particular rendition has left Jenkins in awe. "I… Words fail me," said the Oscar-winning director.
Something Good – Negro Kiss was recently added to the US Library of Congress's National Film Registry among other titles such as Eve's Bayou and Hair Piece: A Film for Nappy-Headed People.
Hi, I'm me.

And when I found out film scholars announced today that they restored an **1898** microfilm they believe is the earliest cinematic depiction of African-American love

did you fucking think that I *wouldn't* immediately score it using IF BEALE STREET COULD TALK? pic.twitter.com/tI3k3HV7xq

— KYLE A.B. (@kyalbr) December 14, 2018
A friend texted this to me.
I… Words fail me.

— Barry Jenkins (@BarryJenkins) December 14, 2018