Lifestyle
Trending
13-Year-Old Chef And Entrepreneur Julian Frederick Launches On-Demand Cooking Classes For Kids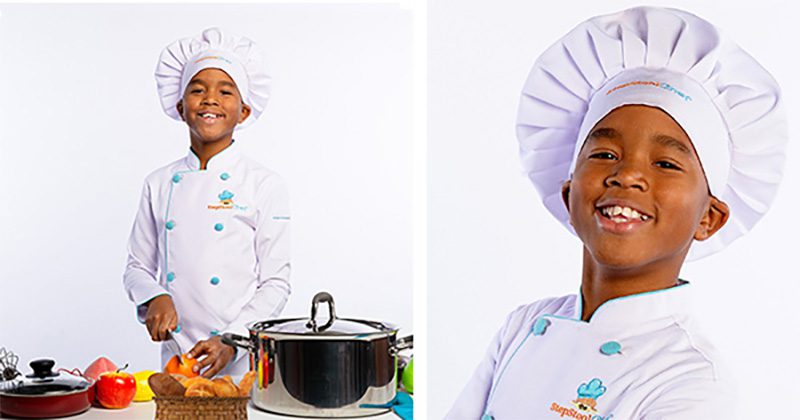 Julian Frederick, a 13-year-old chef and creator of The Step Stool Chef, has partnered with SideChef to provide on-demand virtual cooking classes for other kids in his demographic.
SideChef is a cooking platform that has over 18,000 interactive smart recipes, providing hands-free voice commands, instructive photos and videos, and built-in timers. The company partners with the largest retailers, publishers, and brands across the globe to create their extensive offering. Julian's class, titled "The Step Stool Chef Cooking School for Kids" will be divided into two modules: "Intro to Kid Cooking" and "Next Level Cooking."
Basic cooking skills will be taught to subscribers of the classes, which are priced at $4.99 monthly or $49.99 annually. They'll also learn how to blend math, science, and reading skills into the cooking experience. The platform makes it convenient for parents to order the necessary supplies and delivery through Walmart and AmazonFresh.
SideChef's CEO Kevin Yu discussed the partnership with Julian in an interview with BlackBusiness. "In these uncertain times, what is certain is that home cooking has become an essential part of everyday life, even for kids, and we are dedicated to persistently innovate with renowned partners like Step Stool Chef to help kids start their cooking journey with a strong foundation. Teaching the future generation life skills early on in their childhood development means we are fulfilling our mission to empower even the youngest of eaters everywhere to cook great food."
The Step Stool Chef's co-founder and mother of Julian, Toria Frederick, shared her thoughts as well, saying, "This unique partnership allows us to merge kid cooking, education, and technology. As distant learning and homeschooling become a reality for many kids across America, these on-demand cooking classes are a great complement to the new reality of present-day at-home education. This is a great solution for families wanting to spend more time together that also supports kids learning to be more independent."
The idea for The Step Stool Chef was first formed on Julian's third birthday while the family was preparing to bake a birthday cake using a recipe that's been passed down for generations. As Julian's mother Toria began to make the cake, he confidently said that he could do it. Little Julian desired to make his own birthday cake so that he could wear his new chef's jacket that was a Christmas present. "So with the assistance of a step stool and a little help from mommy, my budding chef did a great job making his cake," wrote Toria. "He was beaming with such a sense of pride and confidence that I had never seen before."
Today, Julian's love for cooking has only expanded. With the new partnership with SideChef, Julian hopes that the program will help more children learn how to be independent and find joy in learning a new skill. "I want to help kids build their cooking skills and confidence while creating great family time memories," he said. "The Step Stool Chef teaches kids to be leaders in the kitchen, providing tools and solutions for them to learn to cook in a safe space with little to no help from parents. At the Step Stool Chef, the kids are the chefs, parents are the assistants."
Sign up for Julian's cooking class by visiting SideChef here. We can't wait to support Julian's future endeavors!