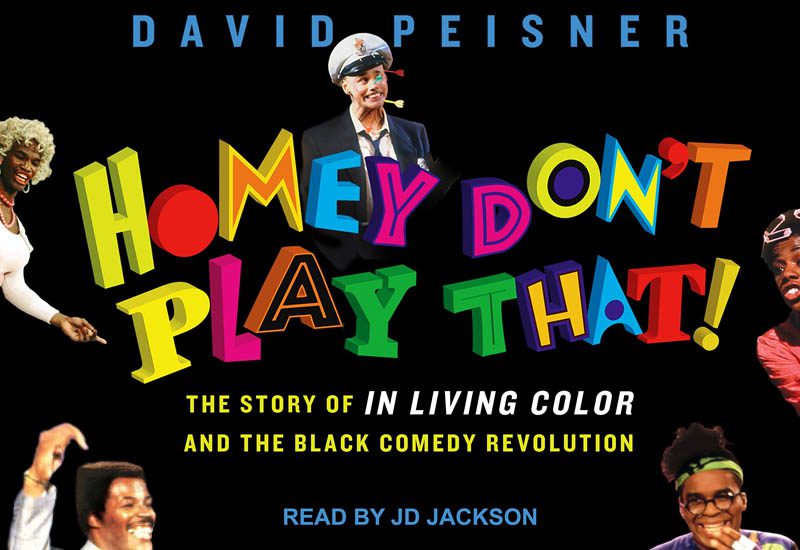 Being a late 80's baby, I have encountered In Living Color as a very young child, but more so as an adult.  Some of my favorite characters (along with everyone else's) include Wanda, Fire Marshall Bill, and Homey D. Clown.  While I found them and the situations they were placed in funny, I was too young to really appreciate the show's cultural importance and significance and the doors it knocked off the hinges in Hollywood.  In his new book, Homey Don't Play That!: The Story of In Living Color and the Black Comedy Revolution, David Peisner carefully and poignantly details the revolutionary nature of Keenen Ivory Wayans' televisual genius.  By focusing on the sketch comedy show, its creation, and its creators, Peisner uses interviews, examples, and more to paint a vivid landscape of television pre and post one of the most iconic shows ever to grace the small screen.  The result is an inspiring tale of how a family from the projects ushered the comedic and musical sense of New York City into living rooms and hearts across the nation.
Growing up watching Shawn and Marlon in The Wayans Brothers, Martin, and Living Single, black programming was, in my eyes, pretty abundant.  I was used to seeing people who looked like me on television. While this was my norm, only a decade or so earlier, black shows were nowhere to be found; this is the importance of Peisner's book for my generation.  Peisner shows how In Living Color acted as a springboard for some of today's most highly revered stars (i.e., Jennifer Lopez, Jim Carrey, and Jamie Foxx), and proved to network channels that black shows were not only marketable but highly desired. This is one of the overarching themes of the book. I have taken the time to highlight the moments that struck me the most whilst reading.
The NYC stand-up scene that nurtured Keenen was still young and super white.

Keenen and friend and fellow black Hollywood icon Robert Townsend were two of very few black comics working out of the comedy club Improv.  Despite the lack of diversity, they became entrenched in a very tight-knit and supportive group of comedians that included stars-in-the-making like Jerry Seinfeld, Jay Leno, and Bill Maher.
Damon Wayans was a really BIG deal.

He and Marlon have always been my favorites, but I was unaware of the star status of older brother Damon in his heyday.  Damon actually left the show because he felt that Fox was not paying him fairly despite creating and performing some of ILC's most beloved characters.  Only realizing what they had once it was gone, Fox offered Damon $75K per

sketch

to return, which he did.  However, he only shot a few sketches before leaving again in the act of solidarity upon brother Keenen's resignation.
I'm Gonna Get You Sucka, written and directed by Keenen, filled a long void of black cultural expression and in 1988 was the first black film released by a major studio in 20 years.  

It joined the canon alongside independent films like his co-written and starring

Hollywood Shuffle

and Spike Lee's

She's Gotta Have It.
Robert Townsend, Keenen, Eddie Murphy, and Arsenio came up together on the comedy scene and called themselves the Black Pack.
In Living Color played an integral role in ushering hip hop into the mainstream by having rappers as guests and dancers affectionately known as The Fly Girls' .
John Leguizamo almost starred on the show.  Leguizamo wanted to perform on 

In Living Color

but was talked out of it by his representation, who thought he should focus on doing his own thing.
It launched not only the careers of those in front of the camera but those behind.  Many writers went on to produce other major hits; Kevin Bright went on to executive produce Friends.  Larry Wilmore wrote for The Fresh Prince of Bel-Air and even hosted his own late-night show The Nightly Show.