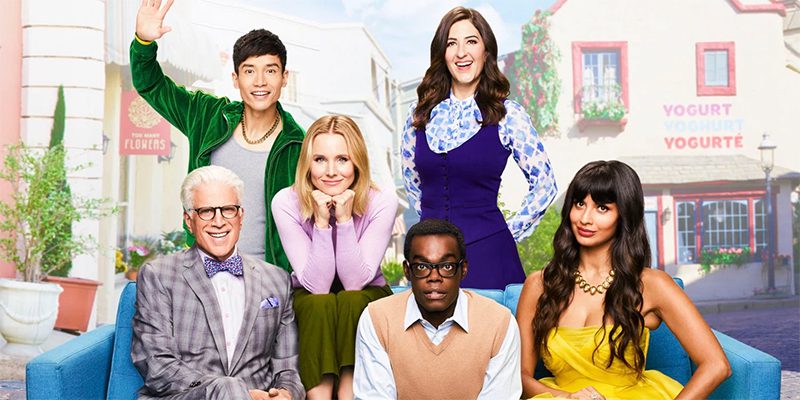 Since discovering The Good Place in 2017, I have been completely enthralled by its humor, subtleties, and incredible wit. Created by Michael Schur, the mastermind behind The Office and Parks and Recreation (also known as a few of the greatest comedies ever invented), the idea behind The Good Place is quite possibly my favorite concept ever within the massive world of television. 
The metaphysical series centers on Eleanor Shellstrop (Kristen Bell), who dies and wakes up in "The Good Place," where she is greeted by Michael (Ted Danson), an eternal being who has constructed a heaven-like utopia for only the best and most righteous humans. As she meets the other residents and hears stories about their charitable lives, Eleanor quickly realizes that she is not meant to be there–as she was one of the most self-centered humans during her time on Earth.
Admittance to The Good Place is calculated through a hilarious point system, where humans gain and lose points in various ways while on Earth, although they are unaware. For instance, Maintain Composure In Line At Water Park In Houston will give you 61 points, whereas Telling A Woman To "Smile" decreases your total points by 53. Also, pro-tip for the upcoming holiday: Giving out full-sized candy bars during Halloween will award you with a whopping 630 points. 
I find this concept absolutely delightful because the Gods of the afterlife have a sense of humor; and I've always envisioned God, or whatever you wish to call the source of it all, to be far less serious than what is taught in Christianity. After all, He/She/They invented humor. On the contrary, because there are literally countless ways to lose points while on Earth, the majority of people end up in The Bad Place. 
This flawed point system of what constitutes a person as inherently "good" or "bad" is explored in season three, where Michael lives on Earth to see what it is truly like to be human, and how difficult it is to be a nearly perfect person due to all of the unforeseen circumstances we encounter throughout life. As you can see, the philosophy behind the show is truly unmatched. 
And then, of course, there's the cast. Aside from the lovely Kristen Bell and Ted Danson, we have William Jackson Harper, who plays Chidi Anagonye. Chidi was a philosophy professor on Earth, and is perhaps the most ethical person you'd ever meet–and yet, he can't make a decision to literally save his life due to the ethics behind Every. Single. Choice. For example, young Chidi couldn't even choose a team member during kickball because he didn't want to discriminate. Chidi is absolutely one of my favorite characters on the show, and I love how his torture in the afterlife consists of making decisions.
Janet, however, tops the list for best characters ever created. Played by D'Arcy Carden, Janet is a programmed AI guide who knows everything in the Universe. Aside from being hilarious and a joy to watch on screen, Janet's character development is brilliant. Though she's AI, she learns human emotion as the seasons progress. Jameela Jamil plays Tahani Al-Jamil, a wealthy English philanthropist, who is stunning and seemingly perfect–a complete intimidation for Eleanor, who at first tries to bring Tahani down to her level. Of course, we learn that Tahani's life on Earth was not as pure as we initially are led to believe. And lastly, there's Jason Mendoza (Manny Jacinto), who also winds up in The Good Place by mistake. Jason was an ameatur DJ on Earth, and he's definitely not the sharpest crayon in the box. Yet, he is warm natured and becomes maybe a smidge smarter as his character develops. Oh, did I mention that all four humans–Eleanor, Chidi, Tahani, and Jason–are actually in The Bad Place? Or, at least an experimental version of The Bad Place constructed by Michael. Thus, this means that there is still an actual Good Place–and Maya Rudolph plays The Good Place judge, Gen, who is delightful. We first meet her at the end of season two, and get to know her character even more in the third season. 
Now in its fourth and final season, The Good Place left off with the rules of the point system being rewritten. Living on Earth is determined to be an awful experience by Michael, and it is learned that nobody has been admitted to The Good Place in over 500 years. In a new experiment, Eleanor, Chidi, Tahani, and Jason are now helping to guide four newly deceased humans to become better people in the afterlife. 
I could write an entire book on all of the twists and turns within the show, but let's leave it at this: Schur's The Good Place is by far the most intelligent show on network television due to the philosophy behind it, and the universal questions it raises. A main theme is that we are often a result of our circumstances, but this does not mean we are inherently bad people, or that change cannot occur. Take Eleanor, for example. She was perhaps the most self-serving human ever, but consider the environment in which she grew up, and the beyond lousy and neglectful parents that she had. In the afterlife, her growth is admirable, and her old self becomes unrecognizable. Because of this,The Good Place often takes a jab at religions, where the rules are so rigid that they do not leave any room for questions about various circumstances–thus, a person who lived like Eleanor would surely burn for eternity, in the eyes of Christianity. 
Assuming that you've already binged the first three seasons on Netflix, please do yourself the grandest favor and watch the final season of The Good Place on NBC every Thursday at 9 PM EST.