Film & TV
Trending
How Tomeka M. Winborne's Short Film "Aged Out" Sheds Light On The Fate Of Youth Aging Out Of Foster Care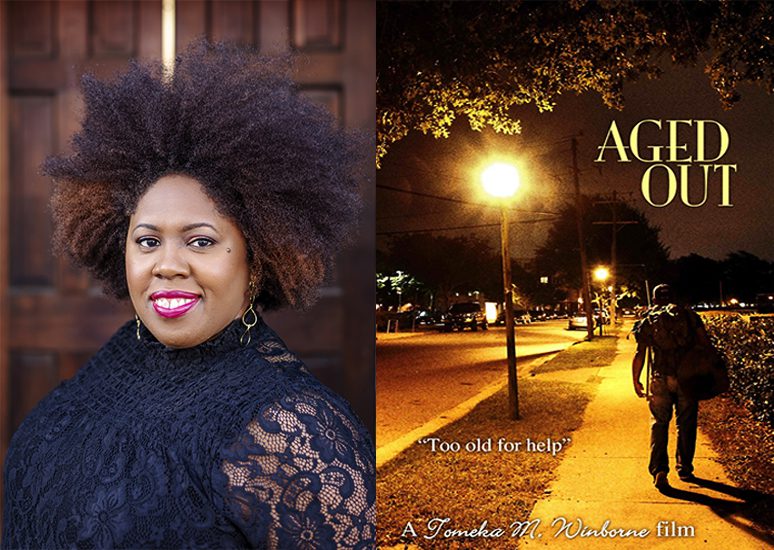 As part of Foster Care Awareness Month, we're highlighting the stories that will allow others to become educated about not only what occurs to children who are currently in the foster system, but to those who have aged out of the system–which, at 18 to 21 years young, becomes the fate of every single foster child in America.
In the poignant short film Aged Out, writer and director Tomeka M. Winborne provides us with a necessary glimpse into the difficulties and unfortunate circumstances that can occur after one ages out of the foster care system.  
The film follows Jessica (JaMara Smith), who is devastated and in a state of despair after the untimely loss of her husband. When Sam (Jermelle Simon), a despondent but determined teenager, knocks on her door to offer handyman services, Jessica begins to form a connection with this young man as he works around her home. After learning that he has AGED OUT of the foster care system, Jessica becomes eager to help him by any means possible, becoming a source of light in the darkness for Sam.
There's something quite exceptional about a director who can make you feel emotionally connected to the characters after only knowing them for less than 30 minutes. This is perhaps the most compelling element of Aged Out, and where it succeeds the most. Thus, this attachment we form to Sam and Jessica allows us to view them as real-life people rather than merely cardboard characters in a film. We want the absolute best for Sam, and our heart breaks to hear that his story is, in fact, an incredibly common one. Of course, there is a light at the end of the tunnel for Sam, who is led to his life's purpose through the spiritual work of Jessica, but a countless number of our aged out young adults aren't always this fortunate.
In the closing scene, Winborne shares shocking statistics about what occurs every single year in the foster care system. "According to the latest Housing and Urban Statistics published in 2014, more than 70,000 youth in foster care are between the ages of 16-20 years old. Every year around 28,000 "AGE OUT" of the foster care system. Between 11 and 37 percent of the youth aging out of foster care become homeless, and an additional 25 to 50 percent are unstably housed after their transition out of foster care."
By raising awareness through the medium of film and giving those who are often silenced in society a voice, Winborne is making an incredible difference. To discover more about her mission as a filmmaker, please visit her website.
Tomeka M. Winborne is a writer, director, and podcaster. She currently has her own podcast, Tea Talks with Tomeka, and is also the lovely voice behind JARO's Podcast. Follow her journey on Instagram at @tomekawinborne.
Stream Aged Out directly on JARO by clicking here.