Books
Trending
JARO Books: Our Versatile 2022 Reading List Featuring Black Authors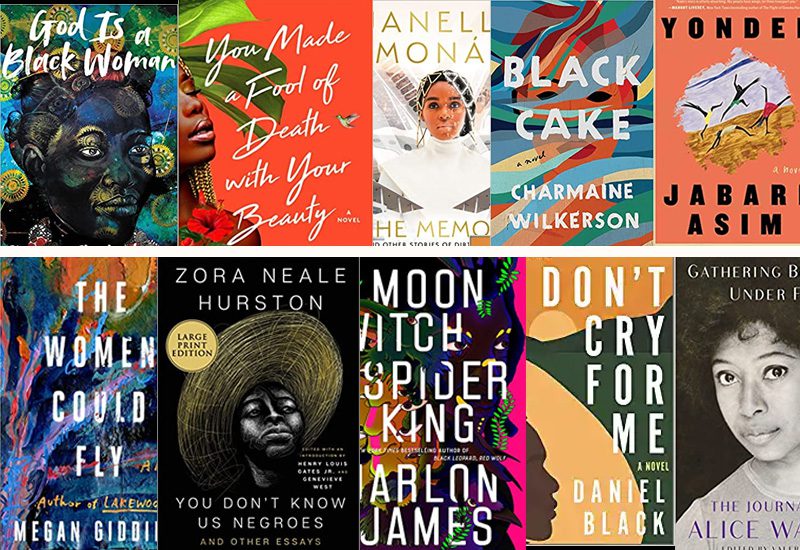 New year, new books! We're absolutely thrilled to experience yet another phenomenal year of reading and to expand our perspective through the stories of others. The following reading list features upcoming books by Black authors spanning a wide range of genres, from deeply personal memoirs to contemporary romance.
There's a promising collection of essays written by Zora Neale Hurston which includes over 35 years of her life's work, and on the other side of the spectrum, we'll be introduced to the very first works of authors such as Charmaine Wilkerson and Abi Ishola-Ayodeji. The Pulitzer Prize-winning author Alice Walker will be releasing her collection of journals written from 1965 to the beginning of 2000.
We're also eager to read non-fiction works by two powerful women in Hollywood, Viola Davis and Janelle Monáe, along with a fictional queer coming-of-age story by The Chi writer and producer Rasheed Newson.
Without further delay, here is our curated list for the most anticipated reads by Black authors this year. Check out our 2021 reading list here.
Disclaimer: Some of the links below are Amazon affiliate links. This means that JARO, at no extra cost to you, will earn an affiliate commission if you click through the link and finalize a purchase.
Yonder by Jabari Asim
"The Water Dancer meets The Prophets in this spare, gripping, and beautifully rendered novel exploring love and friendship among a group of enslaved Black strivers in the mid-19th century. In an elegant work of monumental imagination that will reorient how we think of the legacy of America's shameful past, Jabari Asim presents a beautiful, powerful, and elegiac novel that examines intimacy and longing in the quarters while asking a vital question: What would happen if an enslaved person risked everything for love?"
"You Don't Know Us Negroes is the quintessential gathering of provocative essays from one of the world's most celebrated writers, Zora Neale Hurston. Spanning more than three decades and penned during the backdrop of the birth of the Harlem Renaissance, Montgomery bus boycott, desegregation of the military, and school integration, Hurston's writing articulates the beauty and authenticity of Black life as only she could."
"A thirty-something Nigerian woman attempts to find herself a wedding date and learns some valuable lessons about life and love."
Black Cake by Charmaine Wilkerson
"In this moving debut novel, two estranged siblings must set aside their differences to deal with their mother's death and her hidden past—a journey of discovery that takes them from the Caribbean to London to California and ends with her famous black cake."
"A Black father makes amends with his gay son through letters written on his deathbed in this wise and penetrating novel of empathy and forgiveness, for fans of Ta-Nehisi Coates, Robert Jones Jr. and Alice Walker. With piercing insight and profound empathy, acclaimed author Daniel Black illuminates the lived experiences of Black fathers and queer sons, offering an authentic and ultimately hopeful portrait of reckoning and reconciliation. Spare as it is sweeping, poetic as it is compulsively readable, Don't Cry for Me is a monumental novel about one family grappling with love's hard edges and the unexpected places where hope and healing take flight."
"In this timely, much-needed book, theologian, social psychologist, and activist Christena Cleveland recounts her personal journey to dismantle the cultural "whitemalegod" and uncover the Sacred Black Feminine, introducing a Black Female God who imbues us with hope, healing, and liberating presence."
"From Marlon James, author of the bestselling National Book Award finalist Black Leopard, Red Wolf, the second book in the Dark Star trilogy, his African Game of Thrones. Part adventure tale, part chronicle of an indomitable woman who bows to no man, it is a fascinating novel that explores power, personality, and the places where they overlap."
"The poet and founder of the music collective Flowers for the Living pays tribute to all Black women by focusing on visionaries and leaders who are making history right now, including Ava DuVernay, Janelle Monae, Kamala Harris, Misty Copeland, Nikole Hannah-Jones, Robin Roberts, Roxane Gay, and Simone Biles—with this compilation of celebratory odes featuring full-color illustrations by Melissa Koby."
"In this, provocative, timely, and painstakingly researched book, the award-winning author of Think Black tells the story of how Black labor helped to create and sustain the wealth of the white one percent throughout American history. Painstakingly researched and documented, Of Blood and Sweat is a compelling look at the past that holds broad implications for present-day calls for racial equity, racial justice, and the abolishment of systemic racism, and offers invaluable insight into our understanding of Black history and the story of America."
"For the first time, the edited journals of Alice Walker are gathered together to reflect the complex, passionate, talented, and acclaimed Pulitzer Prize winner of The Color Purple. She intimately explores her thoughts and feelings as a woman, a writer, an African-American, a wife, a daughter, a mother, a lover, a sister, a friend, a citizen of the world."
"In The Memory Librarian: And Other Stories of Dirty Computer, singer-songwriter, actor, fashion icon, futurist, and worldwide superstar Janelle Monáe brings to the written page the Afrofuturistic world of her critically acclaimed album, exploring how different threads of liberation—queerness, race, gender plurality, and love—become tangled with future possibilities of memory and time in such a totalitarian landscape … and what the costs might be when trying to unravel and weave them into freedoms."
"Finding Me is Viola Davis' story, in her own words, and spans her incredible, inspiring life, from her coming-of-age in Rhode Island to her present day. Hers is a story of overcoming, a true hero's journey. Deeply personal, brutally honest, and riveting, Finding Me is a timeless and spellbinding memoir that will capture hearts and minds around the globe."
"Suspenseful and evoking the subtleties of Nigerian life in an fresh and unexpected way, Patience Is a Subtle Thief is a heart-wrenching story of one young woman's precarious journey to adulthood, and the risks and sacrifices it takes to follow her heart."
"A New York Times bestselling author, National Book Award finalist, and "one of our greatest living writers" (Shondaland) reimagines the love story in this fresh and seductive novel about a young woman seeking joy while healing from loss. Akwaeke Emezi's vivid and passionate writing takes us deep into a world of possibility and healing, and the constant bravery of choosing love against all odds."

"Strong female friendships and a snappy enemies-to-lovers theme take center stage in this highly anticipated romantic comedy from the USA Today bestselling author of The Dating Playbook."
"Vibrant, humorous, and fraught with entanglements, Rasheed Newson's My Government Means to Kill Me is an exhilarating, fast-paced, coming-of-age story that lends itself to a larger discussion about what it means for a young, gay, Black man in the mid-1980s to come to terms with his role in the midst of a political and social reckoning."
"Reminiscent of the works of Margaret Atwood, Shirley Jackson, and Octavia Butler, a biting social commentary from the acclaimed author of Lakewood that speaks to our times—a piercing dystopian novel about the unbreakable bond between a young woman and her mysterious mother, set in a world in which witches are real and single women are closely monitored."