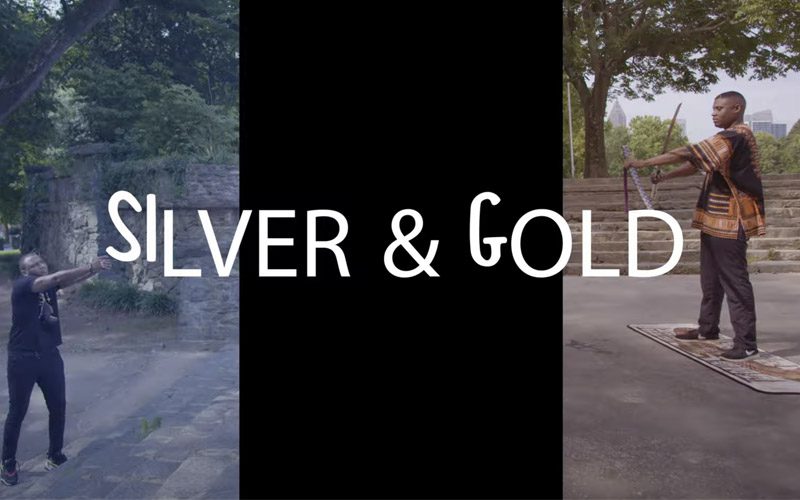 After many months which saw the platform hype the project with a series of visual teasers, posters, and stills, Jaro Media has finally announced the official release date for their first platform branded original series 'Silver & Gold'. The Alonge Hawes created digital series will premiere with a special two episode launch on Tuesday, October 11th at 8pm on both the Jaro website as well as Jaro's dedicated Roku channel.
While there was some discussion on whether the series would air weekly or follow the Netflix model and release the entire season at once, it seems Hawes and Jaro have elected for the former, as 'Silver & Gold' will air episodes every week on Tuesdays. In celebration of the release announcement, Jaro has provided the episode titles alongside the official synopsis:
"Charles Goldar and Bahiya Payne are the smoothest, sexiest, and perhaps the most industrious thieves this side of Bonnie & Clyde. There is no gem too guarded, no diamond too secure, or no amount of cash too vaulted for these two paramours to relieve from their unfortunate marks. So, when they decide to team up with eccentric computer genius Cierra Valentine and stoic con man Sosa Gerena in attempts to pull off bigger and more daring heists, it seems to be a match made in bandit's heaven. But all is not as it seems, as the sins of the past slowly begin to ransack the riches of the present; leading the group down a path of violence and vengeance amidst Atlanta's criminal underground. When Charles and Bahiya are faced with a reckoning beyond even their own comprehension, they will come to the realization that sometimes love IS the crime…"
1). Caper 1- The Birth Of The Cool
2). Caper 2- The Laws Of The Score
3). Caper 3- The Brilliance Meijn Affair
4). Caper 4- The Sword Of The Morning Part 1
5). Caper 5- The Sword Of The Morning Part 2
6). Caper 6- The Color Of Jazz Is Blu(e)
7). Caper 7- The Valley Of Sorek
8). Caper 8- The Black Blade In The Hour Of Reckoning
9). Caper 9- The Sons Of Geb
10). Caper 10- The Ballad Of Moon & Stars
Moreover, Jaro Media has released the official series intro to further wet potential fans' appetites. Check out the intro below.
'Silver & Gold' is directed by Alonge Hawes, who is also credited as writer, and showrunner. Hawes will also executive produce the series through his company A Million Stories One Pen Productions. Joshua Dennard, Jamal McClendon, Shani Hawes, Cordarol Sanders, Quentin Williams, and Rodderick Fedd serve as producers.
Jaro Media provides on-demand streaming access to a world of African American and Afrocentric digital media including video, visual arts, books, and music. Jaro's unique platform integrates social media, customer control, and media access into an innovative user experience.