Film & TV
Trending
Review: Alonge Hawes Returns With Ambitious Series 'Silver & Gold'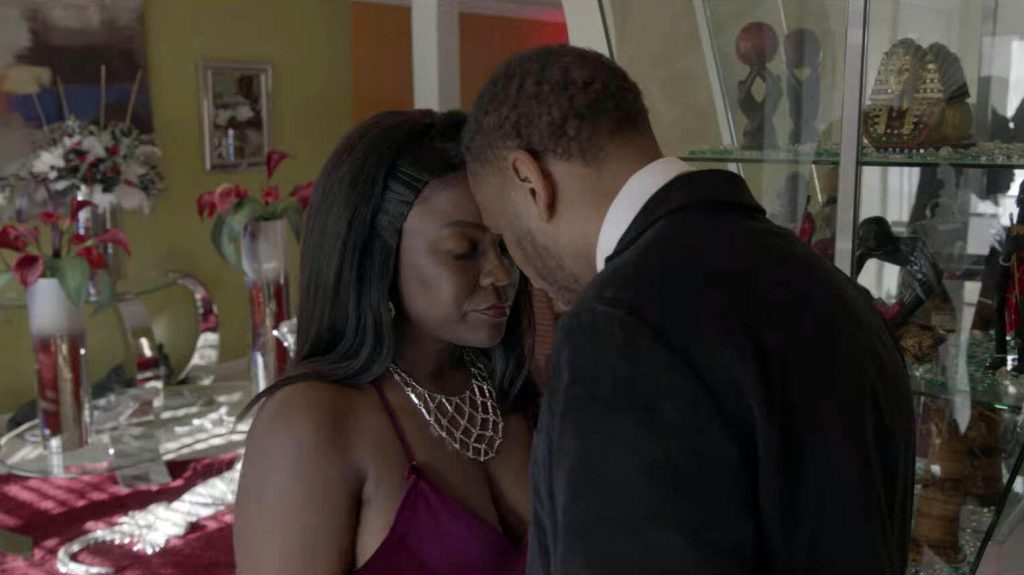 While speaking with Chris Hadley of Snobby Robot, Alonge Hawes described his newest scripted project as an ode to the anime series he used to watch in his youth, especially classic shows such as Cowboy Bebop, Trigun, and Outlaw Star. As a fellow anime lover and someone who is in roughly the same age range, Hawes's newest series, titled Silver & Gold, immediately struck me as the "Black Anime" I'd always wished to see.
The series is a dramatic departure from Hawes's two previous efforts, the slice of life, musically driven 'Blue Collar Hustle' (YouTube, Seeka.TV) and the exploration of black trauma, psychology, and triumph that was "Black On Both Sides (Seeka.TV). While watching Silver & Gold's first six episodes, available via JARO TV, I was surprised at the genre-defying nature of the series. Billed as a "Heist Series," Silver & Gold also contains elements of drama, comedy, thriller, science fiction, and fantasy that blend into a delightful and charming show that highlights the need for unique voices like Hawes and greater representation in both mainstream and independent entertainment.
Hawes, who created, directs, and writes all episodes, has cast his frequent collaborator and creative muse Quentin Williams in the lead role of Charles Goldar, while Brittaney Traylor, in her debut starring role, acts opposite Williams as Bahiya Payne. Goldar and Payne are two of the smartest, sexiest, and resilient thieves operating in Atlanta. They are lovers, partners, and intellectual equals when crafting their plans and executing their strategies.
Charles is smooth and appealing, with an effortless smile and a story for every con. Bahiya is a master con-woman, calmly easing in and out of different accents and dialects to disarm and impress her marks; her victims not realizing they've been robbed until 2-3 days after the con has been pulled.
Together, they make two exciting and fun protagonists. Williams utilizes his thousand-watt smile and confident voice to great effect, imbuing a lawless character with a certain heart and sly moral code. Traylor's beauty and obvious savviness gives her portrayal of Bahiya a playfulness and gravitas that lifts her above and beyond a cliche femme fatale.
In the first episode, titled "The Birth Of The Cool," Goldar and Payne cross paths with two rival thieves, the offbeat and genius computer hacker Cierra Valentine and the stoic and serious Sosa Gerena. Valentine, played with sunny exuberance by Shani Hawes, and Gerena, played by a dutiful Roberto Cruz, are two frequent collaborators of Alonge Hawes. Here, they are able to play against type. It's easy to tell how they all play off one another that they are having the time of their lives with these characters.
Sosa Cruz seems to get the least screen time throughout the first six episodes, but his overall serious demeanor and no-nonsense approach helps to add an element of poise as the series gets into a more dramatic space. Shani Hawes as Cierra is the most unapologetically anime-like character of the series. Her dialogue and banter with the other characters seems ripped straight out of the manga of Tenchi Muyo, Love Hina, and One Piece. The anime influences also manifest visually throughout the series with homages to FullMetal Alchemist, Evangelion, and Naruto sprinkled into the narrative. It is recognizable to fans of the genre without seeming too out of place for viewers who may be unfamiliar with the genre.
By the end of the first episode, the four titular characters decide to team up, which leads to them taking on more ambitious heists throughout Atlanta, as well as interacting with various characters throughout the city's criminal underworld.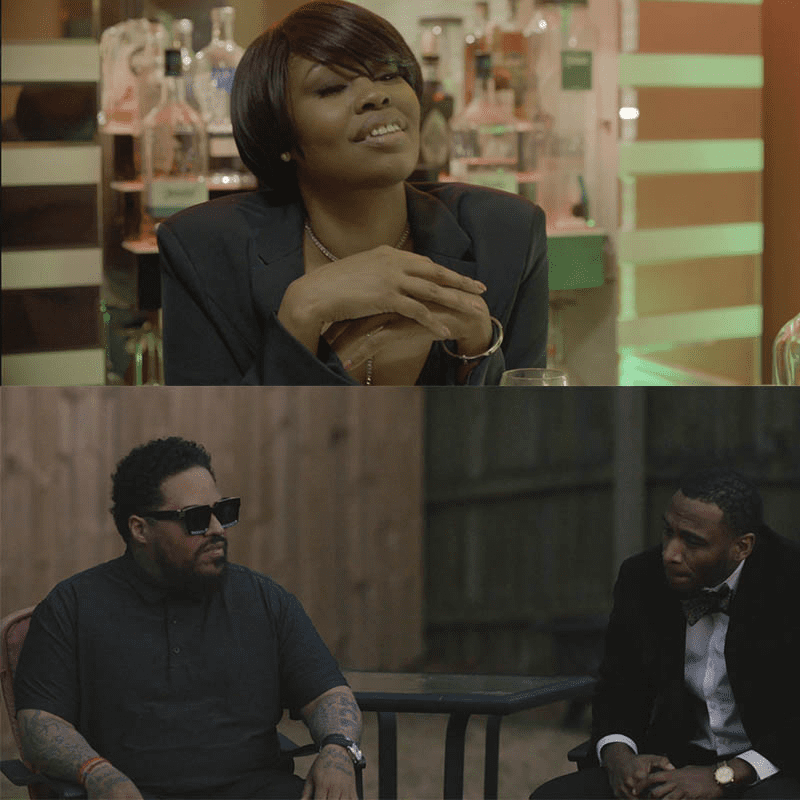 The world building in the series begins to take shape in the second episode, titled "The Laws Of The Score," which also happens to be one of the series' strongest. The team set out to rob a corrupt preacher named Parker Benjamin (Alexander Patterson) of thousands of dollars' worth of gold bars.
The simple premise of the episode actually serves as a vehicle for Hawes to introduce both the thieves code of conduct and the mechanisms for which master bandits execute their strategies. The episode is fun, well written, and introduces two exciting characters in the aforementioned Benjamin and Aiyden Booker, played by Julian Robinson.
Booker is an "Administrator," i.e., an individual who not only knows every crime that takes place in the underground, but also equips information and supplies to thieves looking to pull off jobs and cons. Booker is played as eccentric and quirky by Robinson, and he seems to again embody the series' anime influences. Patterson as the corrupt preacher is a scene stealer as his character drinks, swindles, seduces, and has fun at the expense of the flock who follow him.
The world building continues in the third episode "The Brilliance Meijin Affair," where a computer hacker whose skills rival Cierra's forces the group on a quest that takes them to some of Atlanta's most popular tourist attractions. This episode has a twist I will not spoil, but it's a lively and engaging episode that centers on Cierra and allows Shani Hawes to showcase her considerable acting talents.
The fourth and fifth episodes, which are a two-part epic titled "The Sword Of The Morning Parts 1 & 2," incorporate elements of science fiction and fantasy to the series, alongside philosophies of mythology and destiny, through the lens of African and African American history.
In these episodes, Alonge Hawes steps from behind the camera and portrays what appears to be the series antagonist Ramses Coltrane. Ramses is a figure from both Bahiya and Charles's past that is seeking something important from them. He also feels wronged and betrayed by both, making his hunting for them personal in nature.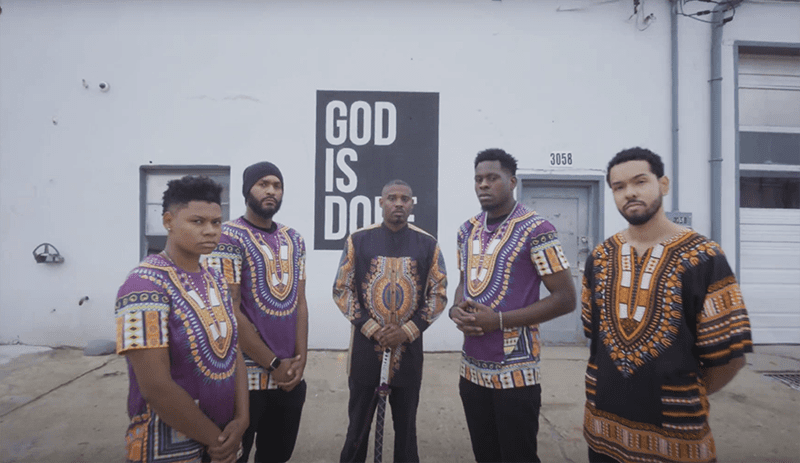 I won't spoil the exact relationship between the three of them, but suffice to say that Hawes has put a lot of simmering rage and hurt into his portrayal of Ramses that makes his methods seem both cruel and steeped in long-standing animosity.
These two episodes introduce other characters such as the art forger Aasim Flyntwood (Joshua Quinn) and the bounty hunter Morrigan Chambers (Angela Van Tassel).
I like how the series subverts stereotypical and cliched expectations for its characters, making Morrigan a sophisticated and calculating elderly woman instead of the loud and brawny types we'd usually see cast as bounty hunters.
The series' sixth episode, "The Color Of Jazz Is Blu(e)," serves as a backstory of sorts for Bahiya and how she came into the orbits of both Charles and Ramses. Traylor does a great job of anchoring the episode and showing that she's a capable leader when Charles isn't present.
These three episodes form a trilogy of sorts which distinguish themselves tonally from the lighthearted capers of the first three. It is a testament to Hawes's writing, vision, and directorial execution that the shift in tone doesn't come off as too jarring to the viewer and that the cast are able to handle the turn with expertise.
Overall, I find Silver & Gold to be Alonge Hawes's most ambitious and entertaining project to date. Technically, it's also a step up from his previous work, with the cinematography and editing, handled by Joshua Dennard, done in a professional and eye-pleasing manner. I was especially impressed with the camera work in episodes one, four, and five.
There are some sound issues, particularly in episodes two and four, where the clarity of spoken dialogue seems to be uneven from scene to scene. However, when taken as a whole, the series looks and sounds great. The soundtrack, including the opening title theme, are wonderful and deserve special mention (again, the anime influence of the series can be felt throughout the musical tracks selected for each episode).
The cast are all fantastic, with specific praise going to Williams, Traylor, Patterson, Van Tassel, and Hawes himself. Hawes's vision and execution as writer/director are skillful and as some of the heavier themes of the series are introduced in the later portion, are handled with a deft and clear sense of purpose.
I'd recommend Silver & Gold to anyone looking for an entertaining series full of interesting, dynamic characters and a plot that keeps you absorbed from episode to episode. The first six of the 10-episode first season are now available via both JARO TV and JARO's Roku channel.
Writing/Direction: 4.5 Stars
Performances: 4 stars
Cinematography: 4 Stars
Audio: 3.5 Stars
Editing: 4 Stars
---
As an independent magazine with a small team, we rely on the support of our readers to keep JARO's content free and accessible to everyone. Please support our ability to continue delivering the best of the African Diaspora with a donation as little as $1. Thank you!