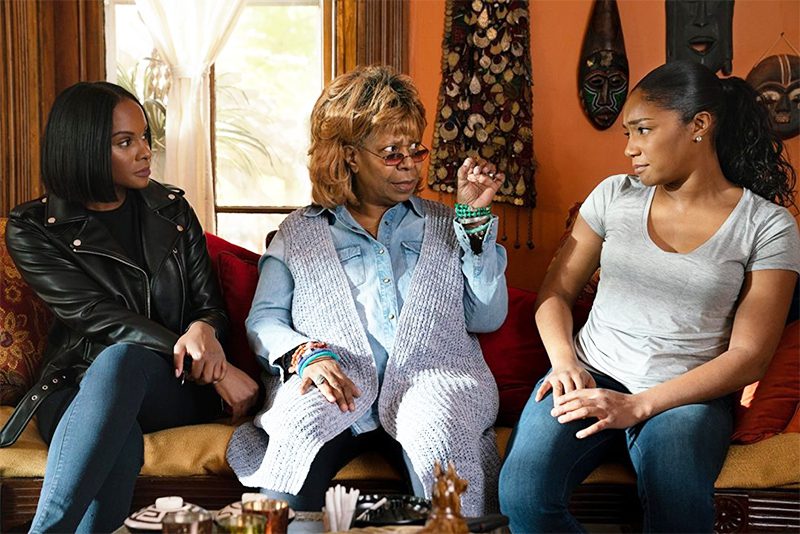 In his latest film, Nobody's Fool, writer and director Tyler Perry explores one of the most common cinematic themes – love and relationships.  The movie's protagonist Danica (Tika Sumpter) is a successful yet emotionally constipated woman whose "fresh-outta-prison" sister, Tanya (Tiffany Haddish), forces her to contend with the fact that her love life may not be the perfect picture she projects.  Through a series of high energy interactions and mishaps that take place between members of a star-studded cast, Danica (or Da-neek-kah, as her family calls her) is forced to reimagine what love is and how it's packaged.
Despite a complicated relationship to Haddish's work, and not her as a person, I was concerned that it would fall victim to the same fate as Night School, which in my opinion is not funny because of its use of caricatures and not characters.  But to my pleasant surprise, Nobody's Fool was not only lighthearted, but actually quite comical.  I did find some of Haddish's scenes funny, and found myself laughing along with the audience at her ridiculous antics. While his position as the straight man would not have been made possible without Haddish, I found myself cracking up at Omari Hardwick's portrayal of Frank, Danica's somewhat passive admirer.  Frank attempts to process and respond to Haddish's aggressiveness and sexually explicit nature and her overall idiosyncratic and somewhat uncomfortable approaches to life and its challenges. I think after watching him portray the serious role of James "Ghost" St. Patrick on Starz drama series, Power, for the last five years, it was refreshing and heartwarming to see the sexy actor play a softer, honest, more everyday man.
I was equally entertained by Whoopi Goldberg's performance.  The comedic diva returns to the silver screen after what feels like forever using her signature sly and straightforward humor for the role of Lola, Danica and Tanya's mother.  Lola is the subtly strong matriarch who grows and smokes a lot of weed. However, her ability to create and reinforce boundaries (Tanya is not allowed to stay with Lola because of an incident where she stole  copper pipes from the walls) as a both a mother and a woman is not clouded by the smoke of her reefer. I appreciated and giggled at how despite not letting Tanya stay in her home, Lola, through coercion, guilt, and whatever other necessary means still ensured that Tanya would have a place to stay – this time with her sister.  Goldberg's Lola was an especially funny mixture of comedic displays of tough love and jokes about being high.
This film's message seems to read as: Women, don't let your list keep you from being with your dream guy.  In this specific case, when the choice is between a thoughtful, affectionate, fine ass Omari Hardwick, um I mean Frank, a formerly incarcerated coffee shop owner, and a tall, financially stable, average-looking, narcissistic man who is a really bad lover, the option is quite clear.  Being that this message seems to pervade a large portion of Perry's films – Daddy's Girls, Diary of a Mad Black Woman, Why Did I Get Married?, Acrimony, and many others, it makes me question the repetition of the favored parable. This is not an attempt to deconstruct Perry's intentions; rather it's an investigation of how I, as a viewer, interpreted the movie.  
For women like myself, who are ambitious and desire to date and marry black men, a film like this can and often is read as a suggestion for us to lower our expectations.  That we are being unreasonable, and potentially blinded to the love that is present right before our eyes. I struggle with this notion as I feel am just now really growing into myself and only beginning to build the confidence and self-worth needed to advocate for myself and what I need in a partner.  Part of that growth was learning how to practice self-love through setting and abiding by standards. I also do not feel like myself or my friends are unwilling to give a guy a try if he is missing a few of the things on our lists. It just makes me wonder why this narrative is such a pervasive one, as I am not one of those women with list-induced tunnel vision.  Watching these films sometimes makes me wonder – do I not deserve what it is I am asking for? Am I delusional? Ultimately, though a common byproduct, this does not feel like Perry's intentions. Instead I am choosing to see this movie as an opportunity for us all to examine how we are perceiving the world and to make sure that we remain open, somewhat flexible, to the love we deserve and to recognize and appreciate it even if (not necessarily when) it comes in package other than what we imagined.