Trending
Samuel L. Jackson Is Delightfully Whimsical In 'Unicorn Store'
Samuel L. Jackson is a playful salesman in Brie Larson's directorial debut.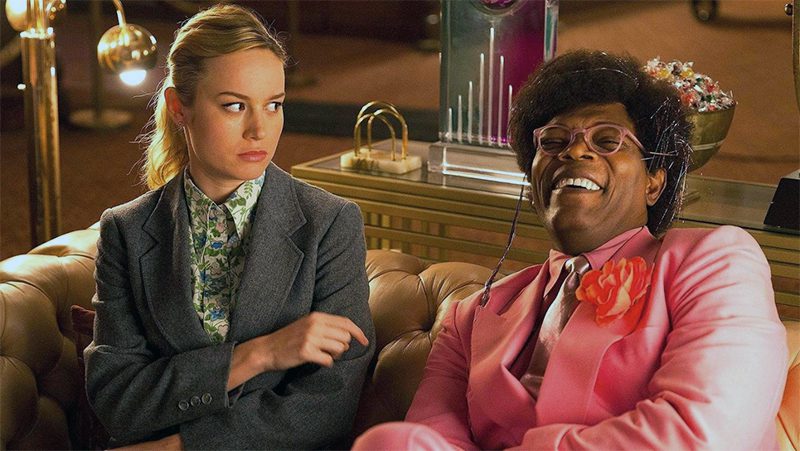 From Pulp Fiction to Captain Marvel, we're used to Samuel L. Jackson starring in badass, action-packed roles. But recently, Jackson showed us his playful side as a whimsical salesman in Netflix's Unicorn Store, and we're loving it.
Unicorn Store is Brie Larson's directorial debut, and it's an absolute pleasure to watch–especially for all of the dreamers who wish to embrace their inner child.  Larson plays Kit, a quirky painter who has flunked out of art school and is forced to take a soul-sucking office job at a temp agency. But when she receives an invitation to a mysterious building simply named "The Store," she meets an eccentric salesman (Jackson) who can fulfill her childhood dream of owning a unicorn. While the premise may seem offbeat and bizarre to a more conventional audience, that's exactly how the film succeeds. It doesn't try to be anything but itself.
When we meet Samuel L. Jackson's character, he's wearing a pink suit with a metallic tie, and there's colorful tinsels in his hair, which apparently belongs to the mane of a unicorn.  The Salesman's store is a magical place where even the wildest of dreams are birthed. He grants Kit with the opportunity of a lifetime: to own a unicorn and receive unconditional love. But there's specific requirements, of course, that must be met before she can officially own the unicorn. Number one, build a home worthy of a unicorn. Number two, surround the unicorn with love, which is accomplished by first finding love within herself.
Throughout the film, there's questions on whether it's all a metaphor of Kit's soul being the unicorn. In many ways, this is absolutely true. But for all the idealists out there, you won't be disappointed, since there actually is a unicorn at the end of the rainbow. And when Kit finally becomes face-to-face with the beautiful creature that she's dreamt of owning her entire life, she instead thanks the unicorn and lets it go, as The Salesman has helped her to discover unconditional love within. 
At its core, Unicorn Store is a heartfelt coming-of-age story about a young woman who wants to nourish her inner child and soul with love, passion, and happiness–as we all should. As an artist who refuses to take a more traditional route in life at the unforgivable cost of losing my creative spirit, I connected to the character of Kit on a deeply personal level. And who hasn't dreamt of having Samuel L. Jackson as their magical mentor who grants their wishes and helps them to find themselves?
Stream Unicorn Store on Netflix, and let us know if you'd like to see Samuel L. Jackson take on more playful roles in the future.