Film & TV
Trending
Watch The First Trailer For Amazon's Black Women-Centered Comedy 'Harlem,' Premiering In December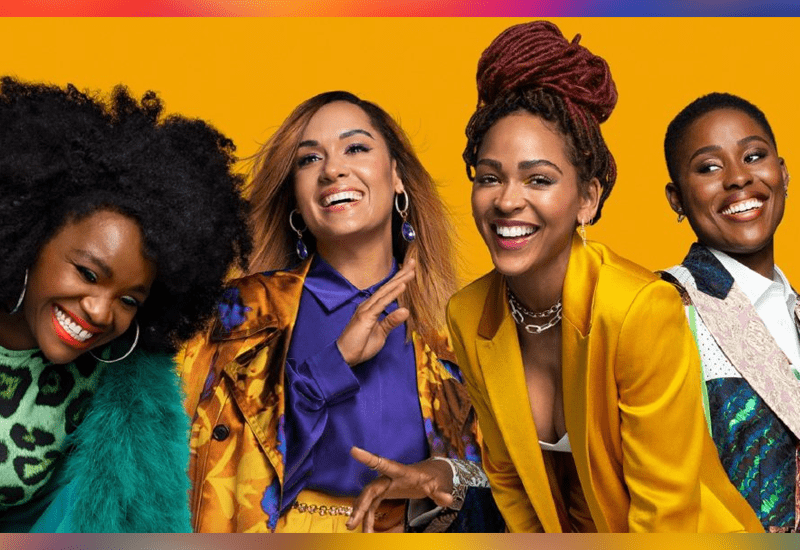 From Insecure to Run The World and now Harlem, recent series are focusing on compelling groups of Black women who are multifaceted. Creators of color are taking it upon themselves to accurately portray Black women in a myriad of ways, and it's exciting to witness.
Harlem follows "four stylish and ambitious best girlfriends in Harlem, New York City: a rising star professor struggling to make space for her love life; a savvy tech entrepreneur always dating someone new; a no-filter singer; and a hopeless romantic fashion designer. Together, they level up into the next phase of their careers, relationships, and big city dreams."
The series was created, written, and executively produced by Girls Trip co-writer Tracy Y. Oliver. In an interview with EW, Oliver spoke about her inspiration behind creating the show. "There just wasn't a lot of like Black female friendship stories on the air, and those have always been my favorites," she said. "Usually what I do when there's something missing that I really want to see is I just decide, okay, well I'll just write it. So I did."
Fortunately, there are more shows about Black female friendships these days, but the idea came to Oliver years ago––and honestly, why limit the amount of Black women-centered shows?
Harlem creates an honest space for women who are in their thirties and are still figuring life out. Oliver notes that many shows center around women in their twenties, which is known as the ultimate "figuring it out" decade. It's assumed that by the time we reach our thirties, we should have a clearer sense of our direction.
Oliver said, "I was like, 'But I'm in my thirties and I don't have everything together.' And I have so many friends that are still figuring themselves out too, or even starting over… And so I was kind of like, 'Well, let's be truthful about how the thirties doesn't necessarily mean that you have it all together.'"
There's certainly steamy romance within the show, but Oliver is clear to state that above all, it is a love story about unyielding friendship ties. "We do a lot of love stories with different people in New York, but always the center of it is their friendship. And no matter what they go back to each other, and they're honest with each other and not afraid to hurt each other's feelings."
Harlem "is not a show where women are insulting other women, or sleeping with other people behind their backs. It's a true love story between them and they're always there for each other."
The main cast stars Meagan Good, Grace Byers, Shoniqua Shandai, Jerrie Johnson, and Tyler Lepley. Recurring stars include Whoopi Goldberg, Jasmine Guy, Andrea Martin, Robert Ri'chard, Juani Feliz, Kate Rockwell, and Sullivan Jones.
Featuring 10 episodes, the first season will premiere on Prime Video Dec. 3rd.
Watch the trailer below: