News
Trending
Gabrielle Union-Wade And Dwayne Wade Advocate For Black LGBTQIA Rights While Being Honored At NAACP Image Awards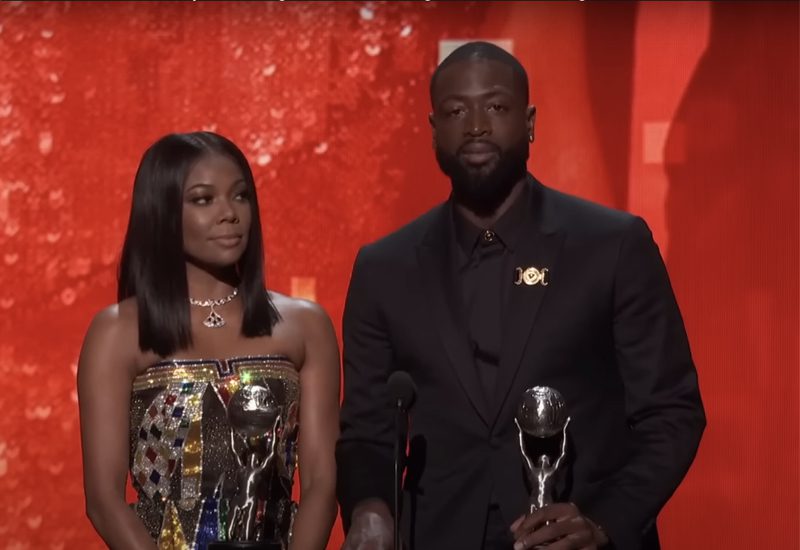 At the 54th annual NAACP Image Awards, Gabrielle Union-Wade and Dwayne Wade received the President's Award in honor of their philanthropic work and ongoing support of the LGBTQIA community.
Their 15-year-old daughter, Zaya Wade, came out as transgender in 2020, and the Wades have been in full support of Zaya's transition. Just one day prior to the NAACP Awards, Zaya was granted the right to legally change her name and gender. Her legal name is now Zaya Malachi Airamis Wade.
During the heartfelt speech, Wade spoke directly to his daughter. "As your father, all I've wanted to do was get it right," he said. "I've sat back and watched how gracefully you've taken on public scrutiny. And even though it's not easy, I watched you walk out of that house every morning as yourself. I admire how you've handled the ignorance in our world. I admire [what] you face every day. To say that your village is proud of you is an understatement."
He went on to give gratitude towards Zaya for showing him how to communicate effectively, and spoke about how she has made him a better person through walking in her truth. "As your father, my job isn't to create a version of myself or direct your future. My role is to be a facilitator to your hopes, your wishes and your dreams. Zaya, you've made me a better human just simply by being who you were born to be — a baby girl, Zaya Wade. So baby, thank you for showing the world what courage looks like. I'm proud that I was chosen to stand in place as your father and thank you so much NAACP for this incredible honor."
Union-Wade paid respect to the NAACP during her speech, stating that it is "an organization that has led us through over a century of relentless challenge, pain, triumph, and change." Regarding this new era of activism, however, she asked a pertinent question: "Will we fight for some, or will we fight for all of our people?"
"Let's just name a couple hard truths," she continued. "First, the intersection of Black rights and the rights of the LGBTQIA trans and gender non conforming people continues to be rough — that's a huge understatement. Even as we demand equality at the top of our lungs, we consistently failed to extend our advocacy to protect some of our most vulnerable among us. And second, Black trans people are being targeted, terrorized and hunted in this country. Every day everywhere. And there's rarely a whisper about it."
Though the Wades are proud and vocal activists in the LGBTQIA community, for them the support derives from being "parents who love our children and will do whatever the hell we can to keep them seen and secure and safe," said Union-Wade.
She continued: "This is a conversation worth having in ways that can actually build bridges. That don't fan the flames of hatred or division. That don't enable lawmakers or justice systems to look the other way when Black trans people are under attack. That don't drive more young people to hate themselves or harm themselves. That don't cost people their lives."
Concluding her galvanizing speech, Union-Wade said that considering the future, they're "hopeful that we may witness a real shift in the fight for justice, the moment the movement makes room for everyone. Everyone."
Watch the speech below: