Film & TV
Trending
Renée Wilson's Award-Winning Short Film 'Ode to Joy' Is Deeply Healing And Radiates With Feminine Energy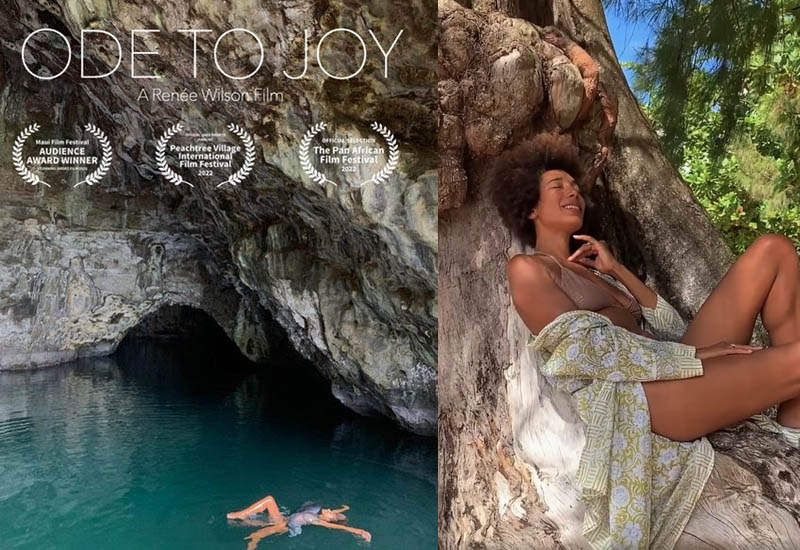 "I am a woman. A vessel. The great mother pours life into me, and I am here to do her will. Reborn, alive, here. I am a lover, an artist, a sister, a friend. She holds my hand through it all as I revel in her light. She washes me clean. Joy is here for us all, and I am grateful every day." ––Renée Wilson
In her Award-winning short film Ode to Joy, writer and filmmaker Renée Wilson invites us to connect deeper with our feminine energy and Mother Earth's bountiful healing remedies. Set between Nevada City, California and the sacred island of Kauai, Hawaii, the film features modes of creative expression, including intuitive dance, song, and poetry––all of which are, remarkably, written or performed by Wilson.
This mesmerizing work of art is a collaboration between the joyful spirit of Wilson and the expansive consciousness of nature. Wilson's gratitude and reverence for life's infinite blessings shows through the light within her eyes and her infectious, radiant smile. It is revealed through her inspiring and heart-opening poetry, and the way in which she beautifully sings "Hallelujah" amidst the crashing waves––how powerful, how cathartic! There is healing to be found in nature; among the trees, the sea, and the transient sky that holds the sun, the moon, the magic of stars, and Ode to Joy alerts its viewers to this source of medicine.

As the third place winner of this year's PVIFF Short Film competition sponsored by JARO, we spoke with Wilson to unearth answers about the film's inspiration and the divine feminine, miraculous moments that occurred through creation, and upcoming projects that center around female empowerment.
How was the idea for "Ode to Joy" birthed?
Originally, I was thinking that I wanted to do something around Goddess nature, around the divine feminine, and also include mother nature. And I was thinking, oh, maybe I'll make something to share on Instagram. Just little snippets of a woman in nature, being with the source of all that gorgeousness in power and wisdom, and then also adding song to it. But then as that theme developed, I felt like I wanted to make it grander. Instead of being just snippets coming out every week, to really create a bigger story with more of a narrative and really include all of the heart spaces that I have.
It began from wanting to honor the feminine because I felt like I wasn't seeing enough of that in the media, especially in a time when our world is being run by masculine ideas. And I don't mean healthy masculine, but an overbearing, patriarchal, misogyny kind of thing. I wanted women to see themselves and wanted the woman who is at home nursing her baby or just any woman to be like, "Okay, I can just rest into this."
I was actually on track to make a different film, a narrative film that I had written. And then when COVID happened, I couldn't do that because in the beginning, everything was shut down. So I was like, I have to make something because I was already in creative output mode. I was like, I've really got to talk about the power of the feminine, the sacred feminine, the great Mother, and the rising of that power. Especially during COVID, because there were a lot of fear and scare tactics being used in the media. A stun-gunning almost of people's spirits. I wanted to counter that. So it was really important for me to present a calming, higher vibrational presence so people can just feel into that, even in the midst of chaotic, unknown energy. Tap into what you do know. The source of what you know is real in your body and in your heart. And then you can deal with the chaos of external things.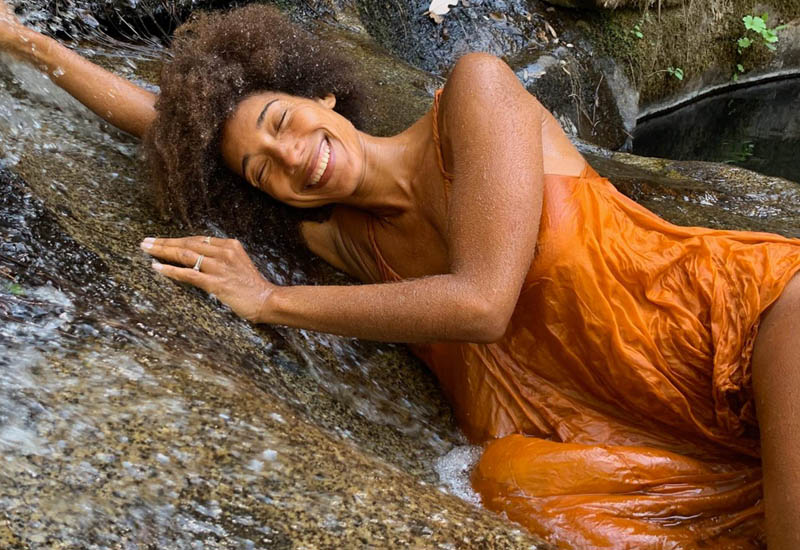 We talked about an infinity loop in the water that just happened to be there, and how a dragonfly appeared in perfect timing while you were filming. What were some of the other signs and synchronicities from nature that you received during the process?
Nevada City is in the Sierra Nevada foothills of California, and it's one of those places that I consider to be a big vortex of energy, as I also consider Kauai. On the Yuba river in Nevada City, there's all kinds of mystical and magical things happening in and around that water. Everything about the process was super organic. [In Kauai], I'd wake up and be like, "I need to shoot at this beach today," and then I'd go there and there would be dolphins jumping. Or I'd be singing and there would be all these people at the beach, but the moment that I would start singing, everybody would get quiet and a sacred space was created for recording. [While singing] almost every time that I would lift my arm, literally just my natural movements, some big wave would crash up, accentuating the song. So nature was always a part of the creation of this piece, which is why I didn't try to drown her out if you couldn't always hear what I was singing. I wanted it to be real and un-stylized so it could feel like an organic experience. Like you were standing right there as it was happening.
One day when I was reading the poem from my book, [the weather] was completely overcast. As I sat down and we started rolling, the clouds opened up and a beam of light shined on our setting. There were double rainbows. Even in times where I feel like we weren't supposed to be there, Mother Nature was giving me warnings. I was standing on this one rock and the water was totally calm, and I would see a huge wave coming and we'd have to jump down. I was like, "Today is wrong, this is not a good day for this. It's dangerous." And then we'd come back like two weeks later, and it'd be a perfect day and the light would be amazing. Which is why I gave Mother Nature a credit. She's the first credit in the film, because the whole point was to honor the earth and the power that I believe is there when we tap into that.
What I find most healing about Ode to Joy is your poetry/prose, and the deep connection you have to your feminine energy, nature and spirituality. Can you talk about your own spiritual growth, the creation process, and what you hope others take away from it?
It deepened my connection to source, to nature, to women's creative abilities, to using what we have. The whole film was shot on an iPhone. So I used what we had, and I'm always an independent DIY person because I know that if the intent is there, to me the medium doesn't have to be something hi-def. If you're really intentional about the story you're trying to connect people with, it comes across. And so it just fortified my belief in our wisdom around being reliant on our resourcefulness. It pushed me to a lot of limits. The writing took me a long time. Because the shooting was done, the singing was done, and then I had to create the narrative arc with the story. And I really wanted to get everything I was feeling out, and it took me a long time to really get the words. That was an exercise of my own patience.
I kept hearing spirit say to me, "I will give you everything, don't worry. Don't rush, everything you need is here. I will give you everything you need." Or, "Go get in the ocean." It was just really listening. You don't have to force this rock up a hill. Believe in God's timing, divine timing, universe timing, whatever people relate to. Because it's like flowers, you can't make the flower bloom any faster. A baby can't be born any faster. So it deepened my connection viscerally on that level. Just stay the course, surrender to the God-given process, the trust. I allowed that and I didn't get hard on myself because this requires a different level of your awareness. So I had to just go with her flow on that.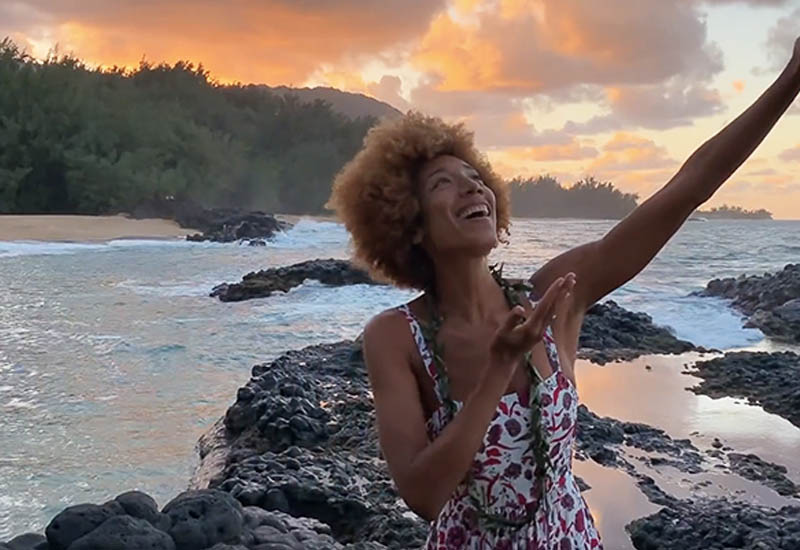 I think spiritually, it also fortified my belief in just the badassness of girls and women, and really solidified my purpose in this world about what I'm doing and who I'm doing it for. The stories I tell, why I'm telling the story, who it's going to impact in a healing way. Connection with my lineage, my ancestors, bringing them along everywhere I am. It really locked that in for me. And the creation story, I wanted to challenge that as well. In the Adam and Eve story, we're the downfall. And actually, we are the creators of life. Nobody would actually be here on this earth without a woman's body as a vessel for you to come out of.
So my own confidence in myself, deconstructing and de-colonizing, and just really deconstructing patriarchy because it dismantles our matriarchy and what's given to us as girls and wisdom, and the power of our storm. So that was the forefront of the work. It's like no, you are gorgeous, powerful. Even if you don't push a baby out of your body, there is a force within you. And that is what I wanted people to come away with. And not just girls; I made it as woman forward, but anybody has that energy if you're allowing yourself to have balance in your energy. You see that more with men who are not clinging to this masculine idea of who they have to be. You have more men that are embracing their fluidness and just how they are. I want that kind of thing to permeate in the work that I create. I'm very clear that I am a vessel for the feminine.
What are a few projects and ideas that focus on empowerment of the feminine that we can be on the lookout for?
I have a lot of projects. I have a project right now called Red for Revolution. It is a narrative audio drama centering intergenerational stories of Black women, queer love, and liberation set in both the present and during the 1970s Black Liberation Movement. It focuses on two women, a radical activist and an apolitical Jazz singer who fall in love during this tumultuous time in history. It amplifies and honors women (and anyone for that matter) who couldn't be freely expressive in their life choices and sexuality at that time and in present day. It is not very often that we see stories that don't center tragedy in this space. I am excited to bring this uplifting project to life and add this to the conversation of how we experience Black women and queer love in media today.
I have another film called Honeypot that I wrote, which is based on a one woman show I did about sexual harrasment in the entertainment industry. It's a comedy based on some of my experiences as a young actress when I was living in LA, and why I decided to shift the narrative and start creating my own work and films. It's about human empowerment and taking our power into our own hands.
I have a film called Again, where a woman goes back in time and has a past-life experience of slavery. There she experiences consciously the generational trauma she has been living with and comes back into modern day healed and able to live a full and free life.
I'm also thinking about doing some workshops around the concept of joy, writing and gathering women, and women of color in a space to do transformational work together. So I've been thinking about how to take it out of just the theater, and make it an interactive healing experience around taking care of ourselves and having joy be at the forefront of our lives.
---
Stay up to date with Renée Wilson's future endeavors by following her on Instagram at @reneemwilson, and by visiting her website at reneewilson.org.

Watch the trailer for "Ode to Joy" below, and stream the short film via JARO Films.