Books
Trending
Steph Curry's Children's Book 'I Am Extraordinary' Is An Encouraging Tale About Self-Acceptance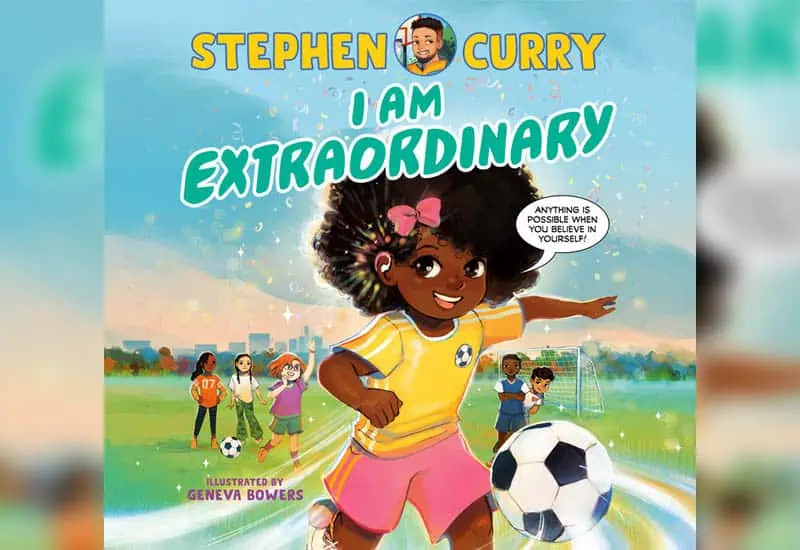 Steph Curry's upcoming picture book about self-acceptance called "I Am Extraordinary" is the sequel to his previous 2022 work "I Have A Superpower." It tells the inspiring tale of a spirited young girl named Mila, who sports a charming afro hairstyle. As she embarks on her journey, Mila grapples with self-doubt about having to wear hearing aids as she contemplates trying out for her school's soccer team. However, with the unwavering support of her friends, who are depicted in the backdrop of the book's cover, Mila discovers the true essence of being extraordinary and wholeheartedly embraces her unique qualities.
The cover of "I Am Extraordinary" showcases captivating artwork by Geneva Bowers, an accomplished artist who has received recognition through the Hugo Award. Bowers has contributed her talents to notable projects with renowned platforms such as Netflix, Prime Video, and Dreamworks Animation. She also illustrated the cover of Curry's previous book.
Published by Unanimous Publishing, a subsidiary of Unanimous Media, the multimedia company co-founded by Curry and Film Producer Erick Peyton in 2018, "I Am Extraordinary" marks their second collaboration with Penguin. Curry expressed his enthusiasm for the book, emphasizing the collaborative effort between himself, Peyton, and their team. He eagerly anticipates sharing this picture book with readers, as reported by ESSENCE.
Through "I Am Extraordinary," Curry seeks to convey the immense importance of persistence. The story revolves around Mila, a courageous protagonist who confronts her insecurities and doubts both on and off the soccer field, determined to enhance her skills despite the obstacles she encounters. Curry explained that the book's intention is to demonstrate to children, parents, and readers worldwide that with hard work, self-acceptance, and unwavering perseverance, any dream can be within reach.
Francesco Sedita, President and Publisher of Penguin Workshop, echoed the shared goal of empowering children to acknowledge and embrace their individual strengths. He expressed their collective aspiration to instill in young readers the belief in their own unique superpowers.
Peyton also enthused about the book's theme, remarking on the pride they take in introducing "I Am Extraordinary" to the world. He emphasized the book's ability to inspire and instill confidence in young readers, reassuring them that they possess the capability to overcome any challenges they encounter. Through this heartfelt story, they aim to encourage children to realize their potential and set their minds to achieve remarkable things.
"I Am Extraordinary" is slated for release on March 12, 2024, and pre-orders are now available.