Arts & Culture
Trending
EVENT: Join Imani Perry In Conversation About Ntozake Shange's New Posthumous Collection Of Unpublished Poetry, Essays, And Plays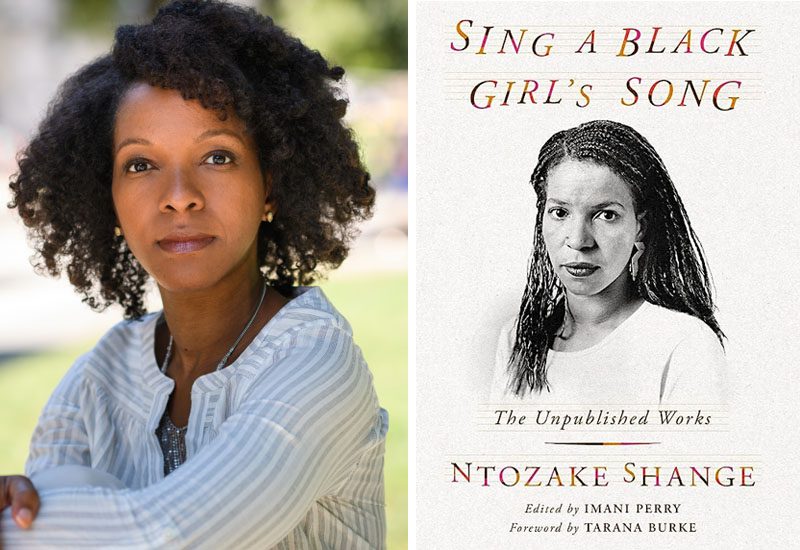 This September, Imani Perry will discuss the new posthumous collection of Ntozake Shange's previously unpublished poems, essays, and plays at New York City's Schomburg Center for Research in Black Culture. 
Edited by Perry, "Sing A Black Girl's Song: The Unpublished Works of Ntozake Shange" features never-before-seen works by the literary icon and Black feminist writer widely known for the choreopoem for colored girls who have considered suicide/when the rainbow is enuf.
"Sing a Black Girl's Song houses, in their original form, the literary rebel's politically charged verses from the Black Arts Movement era alongside her signature tender rhythm and cadence that capture the minutia and nuance of Black life," reads the book's synopsis.
The title "Sing a Black Girl's Song" was inspired by an excerpt from for colored girls, which reads:
"somebody/ anybody
sing a black girl's song
bring her out
to know herself
to know you
but sing her rhythms
carin/ struggle/ hard times
sing her song of life"
The upcoming program will feature readings by theatrical ceremonialist Ebony Noelle Golden, actors Taji Senior and Alana Raquel Bowers, and more. The free event will take place on Thursday, September 14, 2023 from 6:30 to 8:30 P.M.
Learn more about how to register by visiting Eventbrite. To preorder a copy of "Sing a Black Girl's Song," visit Hachette Book Group.
About Ntozake Shange
Ntozake Shange, renowned for her extensive collection of thirty-six published works, is increasingly gaining recognition as a preeminent figure in American literature. Her profound influence spans fifty years, embodying the poignant struggle of women of color as they championed equality and sought rightful acknowledgment for their impactful contributions to the tapestry of human culture.
Her groundbreaking "choreo-poem" from 1974, "for colored girls who have considered suicide/ when the rainbow Is enuf," retains its distinction as the longest-running play authored by an African American playwright in the storied history of Broadway. A testament to her ongoing influence, the recent revival of "for colored girls" on Broadway in 2022 garnered an impressive seven TONY Award nominations, underscoring the enduring pertinence of her creations.
In the wake of her passing, Ntozake Shange's legacy has been enshrined in both the NY State Writers Hall of Fame and the Off-Broadway Alliance Hall of Fame, further solidifying her status as a revered and cherished Black feminist writer, destined to resonate across generations.
About Imani Perry
Imani Perry holds the esteemed position of Carol K. Pforzheimer Professor at Harvard Radcliffe Institute, while also serving as a distinguished professor in African American Studies and Women and Gender Studies at Harvard University. With an impressive literary portfolio, she has authored seven books, notably including "South to America," which secured the prestigious 2022 National Book Award.
Acknowledged for her contributions, Perry has been honored with the Lambda Literary Award and the Hurston Wright Award, standing as a finalist for the NAACP Image Award among other commendations. Her insightful writings have graced prominent publications including The New York Times, The Atlantic, Harper's, O – The Oprah Magazine, New York Magazine, and The Paris Review. Perry's academic journey includes a PhD in American Studies from Harvard University, a JD from Harvard Law School, an LLM from Georgetown University Law Center, and a BA from Yale College, where her focus encompassed literature and American Studies.