Books
Trending
JARO Reading List: Upcoming Books By Black Authors To Read In 2023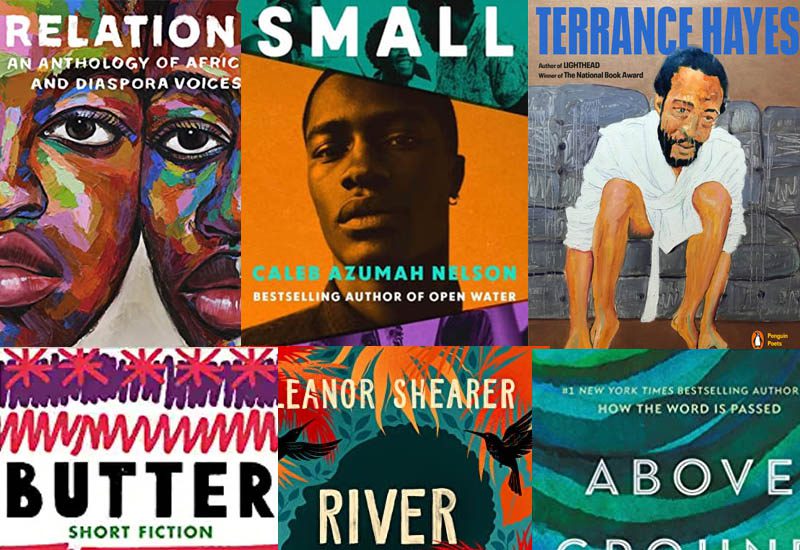 Happy New Year! We're thrilled to unveil our annual reading list for 2023, compiled of both riveting debut novels and highly awaited books from notable Black authors such as Colson Whitehead and Gayl Jones. Featuring literary fiction, arresting poetry and prose, critical essays, art and photography, and more, the following books have been thoroughly considered to include a variety of readers' preferences.
In our most expansive list to date, here are nearly 30 works by Black authors that are on our radar this year, spanning across both the Diaspora and genres.
Check out our 2022 selection of diverse reads here.
This article contains Amazon affiliate links.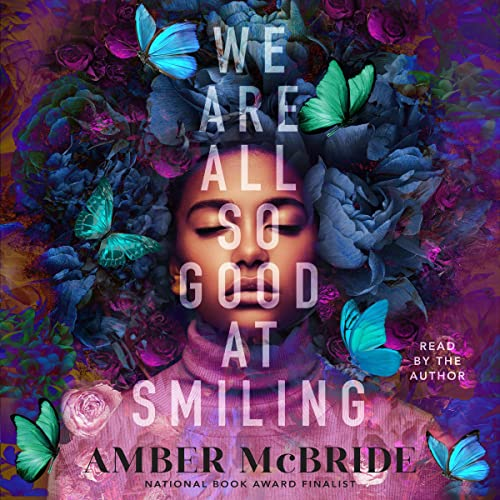 In this young adult novel about clinical depression and healing from trauma, National Book Award finalist Amber McBride tells a hauntingly stunning story in verse. After Whismy is released from the hospital for treatment of her depression, she meets a boy named Faerry. Both have magical powers, and the two begin to realize that their lifelines "have twined and untwined many times before."
Relations: An Anthology of African and Diaspora Voices, Edited by Nana Ekua Brew-Hammond (Jan 17th)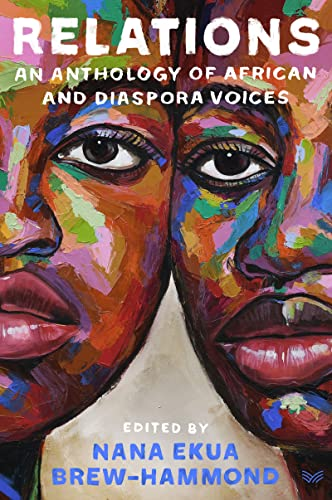 This anthology of stories, poems, and essays by new and seasoned storytellers across the diaspora dissolves the human illusion of separation. It reshapes the narratives of division and brings to light the truth of our shared humanity, regardless of differences in gender, class, identity, and language. Edited by Nana Ekua Brew-Hammond, Relations is a "refreshing collection of genre-spanning literature, it offers a vibrant meditation on being—inviting connection across real and imagined borders, and celebration of the most profound relations."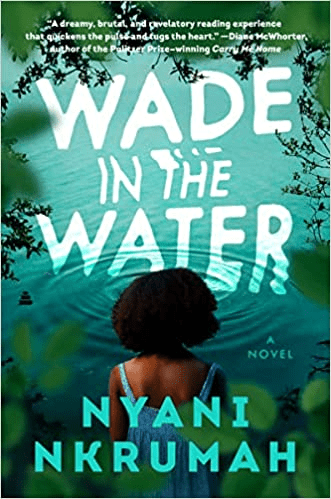 Set in a rural, racially divided Mississippi town during the 1980s, Nyaneba Nkrumah's debut novel explores an unlikely friendship between Ella, a precocious and unloved 11-year-old black girl, and Ms. St James, an elusive white woman.
Their relationship is at once loving, humorous, cautious, and tense. Becoming more complex as the book unfolds and Ella pushes the boundaries of Ms. St. James, dangerous secrets threaten to be unleashed. Told from the perspective of both Ella and Ms. St. James, this page turning coming-of-age story is bound to keep readers enticed until the final shocking revelation.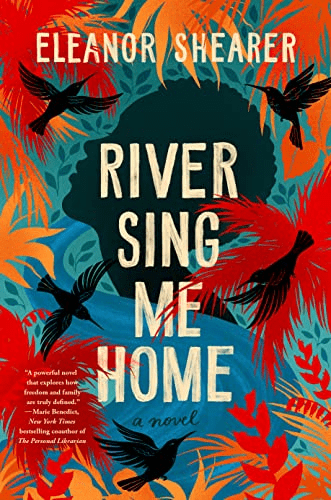 Eleanor Shearer's debut novel is a redemptive, compelling story of a mother's journey across the Caribbean in search of her lost children in the aftermath of slavery.
Rachel is a newly "freed" slave after the Emancipation Act, but the master of the Providence plantation in Barbados where she has been bound announces that though they are no longer slaves, they are now his apprentices and must work for him for another six years. Rachel runs, and begins a desperate search to find her five children, though she is unaware whether they are alive or dead. The expedition takes her on a dangerous trek to the forest of British Guiana and across the sea to Trinidad.
River Sing Me Home is a rare and moving novel about the extraordinary lengths that a mother will go to find her children, and her freedom.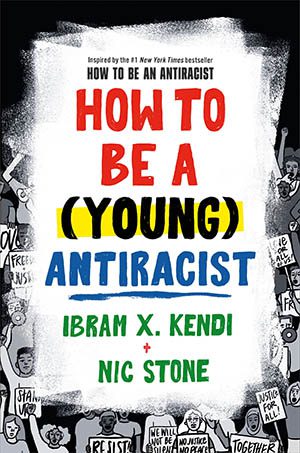 The #1 New York Times bestseller How to Be an Antiracist is now available as a young adult edition for readers 12 and up. It will serve as a guide for people searching for a way forward by acknowledging and dismantling racism and injustice. The book has been revised to provide anecdotes and data that is aimed at the experiences and concerns of the younger demographic.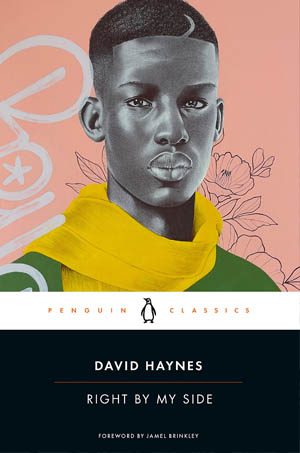 The 30th anniversary edition of David Haynes' Right By My Side, a Penguin Classic, will be released at the end of January.
"With wit and realism, David Haynes presents a different kind of Holden Caulfield in fifteen-year-old Marshall Field Finney, an ordinary, sullen teenager who discovers storytelling as a way to ease his adolescent anger and family tensions. Living with his parents in "Washington Park," a housing development outside St. Louis, Missouri in the 1980s, his high-strung mother walks out on him and his father, a flawed yet strong man who manages the local landfill. Marshall's two best friends, one Black and one white, are his only allies, as they navigate school and family life together. Through these relationships, Haynes poses Marshall's universal questions about his place in his community and what's next in his life. Ultimately, Marshall's story proves that people take care of each other, families take care of others, and a boy finds his own resilience to become a young man."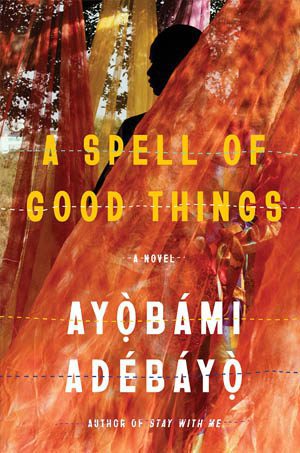 Celebrated author Ayobami Adebayo's second novel A Spell of Good Things is a splendid story of modern Nigeria and two families caught by the grips of power and wealth, romantic obsession, and political corruption.
After his father loses his job, Eniola spends his time running errands for the local tailor, begging, and dreaming of a greater future. Wuraola is the golden child of a wealthy family. Now a drained young doctor in her first year of practice, she is loved by Kunle, the unstable son of a dominant politician. But when a local politician takes an interest in Eniola and a sudden act of violence destroys a family party, Wuraola and Eniola's lives become joined. Adebayo's gripping new novel "shines her light on Nigeria, on the gaping divide between the haves and the have-nots, and the shared humanity that lives in between."
Black Archives: A Photographic Celebration of Black Life by Renata Cherlise (Feb 14th)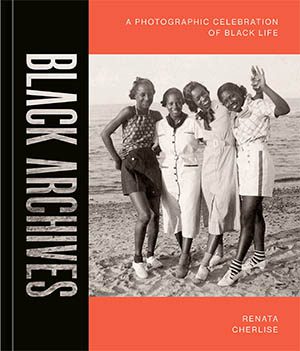 From the founder and curator of the popular multimedia platform Black Archives comes a new photography collection that is a celebration and exploration of Black identity and experience through the twentieth century.
"Black Archives is a stunning collection of timeless images that tell powerful, joyful stories of everyday life and shed light on Black culture's dynamic, enduring influence through the generations. The images showcase reunions, nights out on the town, parents and children, church and school functions, holidays, big life events, family vacations, moments at home, and many more occasions of leisure, excitement, reflection, and pride."
Featuring more than 300 images that highlight the iconic and candid, Black Archives is a distinct compilation of Black memory and imagination, telling captivating stories of Black people across time.
Black Earth Wisdom: Soulful Conversations with Black Environmentalists by Leah Penniman (Feb 28th)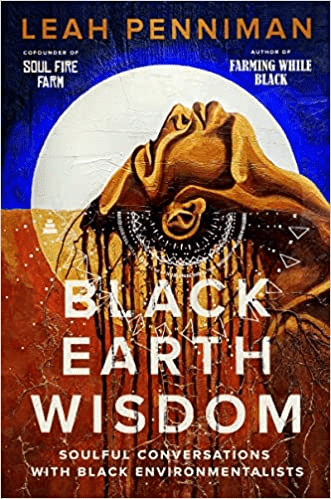 Leah Penniman's Black Earth Wisdom is a soulful, thought-provoking collection of enlightening essays and interviews that explores Black people's spiritual and scientific connection to nature. Penniman reminds readers that ecological humility is a deep-seated part of Black cultural heritage, as Black people have long seen the land and water as family.
"This thought-provoking anthology brings together today's most respected and influential Black environmentalist voices —leaders who have cultivated the skill of listening to the Earth —to share the lessons they have learned. In Black Earth Wisdom, they address the essential connection between nature and our survival and how runaway consumption and corporate insatiability are harming the earth and every facet of American society, engendering racial violence, food apartheid, and climate injustice."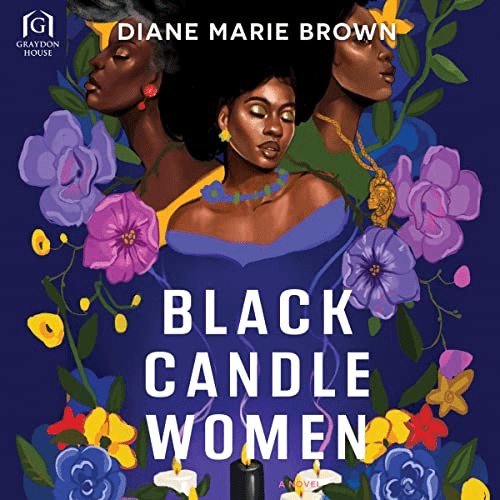 Montrose women Augusta, Victoria, and Willow have lived together in their Californian bungalow for years. Keeping to themselves, they never stray too far from their home, and their collection of spells is a secret bond between them. But when Nickie Montrose brings home a boy for the first time, their once quiet lives are interrupted, for the women have been keeping a dangerous secret from Nickie: the family curse that any person they fall in love with dies.
Exposing this heart wrenching truth to Nickie also means coming to terms with their own mistakes and choices from the past. As questions about the generational family beliefs come to the surface, the women find themselves on a collision course that takes them back to a voodoo shop in 1950s New Orleans French Quarter, where a story hidden within a mysterious book might just have the answers that they're searching for, both in life and in love.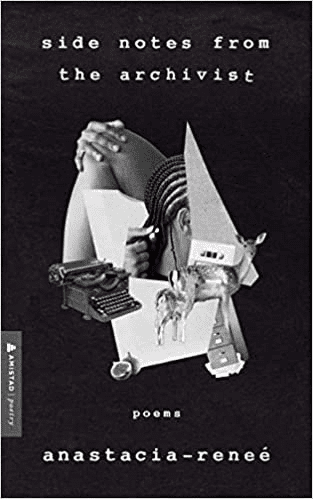 Side Notes from the Archivist is a rich, genre-bending collection of both verse and image, and a preservation of Black culture through the lens of a feminist. A must-read for lovers of Audre Lorde and Nikki Giovanni.
"Every poem in Side Notes elevates and honestly illustrates the buoyancy of Blackness and the calamity of Black lives on earth. In her uniquely embracing and experimental style, Anastacia-Reneé documents these truths as celebrations of diverse subjects, from Solid Gold to halal hotdogs; as homages and reflections on iconic images, from Marsha P. Johnson to Aunt Jemima; and as critiques of systemic oppression forcing some to countdown their last heartbeat."
Above Ground by Clint Smith (March 28th)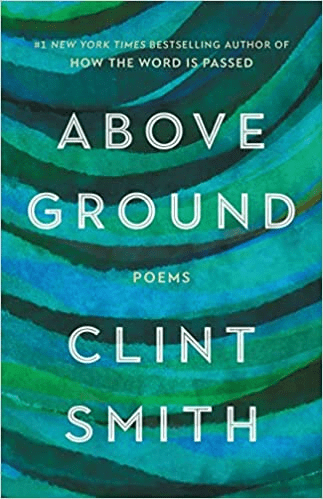 Above Ground is a deeply moving poetry collection that explores Smith's fatherhood journey, and how becoming a parent has reconstructed his world. "There are poems that interrogate the ways our lives are shaped by both personal lineages and historical institutions. There are poems that revel in the wonder of discovering the world anew through the eyes of your children, as they discover it for the first time. There are poems that meditate on what it means to raise a family in a world filled with constant social and political tumult." The breathtaking collection takes readers through not only the early years of his children's lives, but also through the ever-changing world that we can all connect to.
Butter: Novellas, Stories, and Fragments by Gayl Jones (April 4th)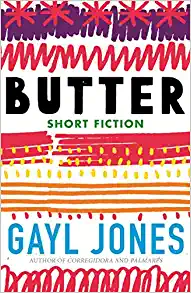 First edited by Toni Morrison, Gayl Jones is considered one of the great literary writers of the 20th century. In her new collection of short fiction, it features Jones's ability to work with various styles, from realism to mysticism. "Her narrators are women and men, Black, Brown, Indigenous; her settings are historical and contemporary, in South America, Mexico, and the US; her themes center on complex identities, unorthodox longings and aspirations. She writes about spies, photographers, playground designers, cartoonists, and baristas; about workers and revolutionaries, about environmentalism, feminism, poetry, film, and love, but above all about our multicultural, multiethnic, and multiracial society."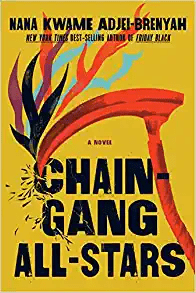 Nana Kwame Adjei-Brenyah's highly anticipated debut novel Chain Gang All Stars is about two women gladiators, Loretta Thurwar and Hamara "Hurricane Staxxx" Stacker, who are fighting for their freedom within a corrupt private prison system. Chain-Gang All-Stars is an illuminating look at the American prison system's immoral alliance of unchecked capitalism, mass incarceration, and systematic racism.
Outriders Africa: Essays on Exploration and Return, Edited by Layla Mohamed and Bibi Bakare-Yusuf (April 18th)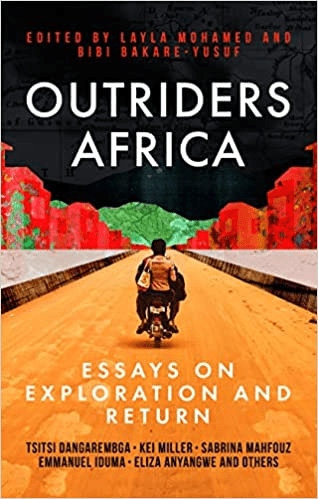 Taking place at the beginning of the COVID pandemic in spring 2020, Outriders Africa brings readers through the travels of 10 writers of African heritage as they set out on exploring Africa. "Against this backdrop, their travels take them from the tourist beaches of Madagascar and Comoros to the Rastafarian town of Shashamane in Ethiopia, and from questions of renaming amongst the flora and fauna of Cape Town to learning to walk in circles and embrace sensuality in The Gambia." Through essays, letters, poetry, and travel diaries, Outriders Africa is an "evocative and enthralling exploration of forgotten family histories, reckoning with grief (both personal and historical), and what it truly means to return."
Quietly Hostile: Essays by samantha irby (May 16th)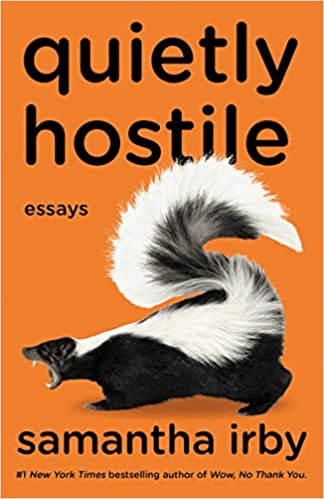 In her new and hilarious essay collection from #1 New York Times bestselling author of Wow, No Thank You and We Are Never Meeting In Real Life, Samantha Irby dives into the gory details of her true life behind all that glitters. "Relatable, poignant, and uproarious, once again, Irby is the tonic we all need to get by."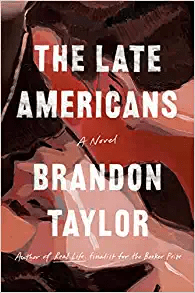 Booker Prize finalist Brandon Taylor is back with an intricate new novel about young men and women at a crossroads, described to be his richest and most involving work of fiction yet.
"In the shared and private spaces of Iowa City, a loose circle of lovers and friends encounter, confront, and provoke one another in a volatile year of self-discovery. At the group's center are Ivan, a dancer turned aspiring banker who dabbles in amateur pornography; Fatima, whose independence and work ethic complicates her relationships with friends and a trusted mentor; and Noah, who "didn't seek sex out so much as it came up to him like an anxious dog in need of affection." These three are buffeted by a cast of poets, artists, landlords, meat-packing workers, and mathematicians who populate the cafes, classrooms, and food-service kitchens of Iowa City, sometimes to violent and electrifying consequence. Finally, as each prepares for an uncertain future, the group heads to a cabin to bid goodbye to their former lives—a moment of reckoning that leaves each of them irrevocably altered."
Nightbloom by Peace Adzo Medie (June 13th)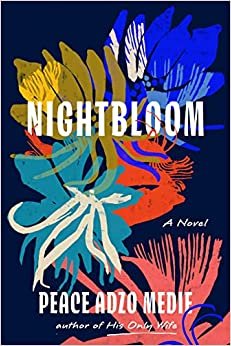 Peace Azdo Medie's second novel is a moving story about the unbreakable power of female friendship. When two inseparable friends in Ghana become estranged and one moves to America, only a crisis can reunite their bond.
"A riveting depiction of class and family in Ghana, a compelling exploration of memory, and an eye-opening story of life as an African-born woman in the US, Nightbloom is above all a gripping and beautifully written novel attesting to the necessity of female bonds in the face of societies that would silence them. This assured follow-up to Peace Adzo Medie's much-heralded debut is perfect for readers of The Girl with the Louding Voice, Americanah, and Of Women and Salt."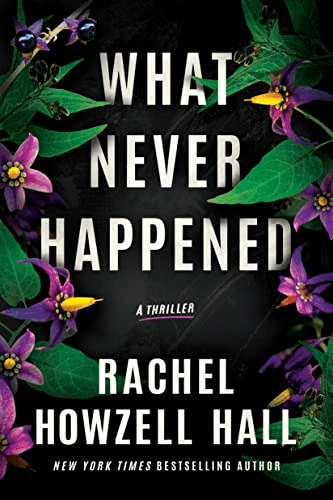 In this gripping suspense by Rachel Howzell Hall, Colette "Coco" Weber uncovers a bulk of deadly secrets off the California coast. "But as Coco learns more about these deaths, she quickly realizes that the circumstances surrounding them are remarkably similar…and not natural. Then Coco receives a sinister threat in the mail: her own obituary. As Coco begins to draw connections between a serial killer's crimes and her own family tragedy, she fears that the secrets on Catalina Island might be too deep to survive. Because whoever is watching her is hell-bent on finally putting her past to rest."
Small Worlds by Caleb Azumah Nelson (July 18th)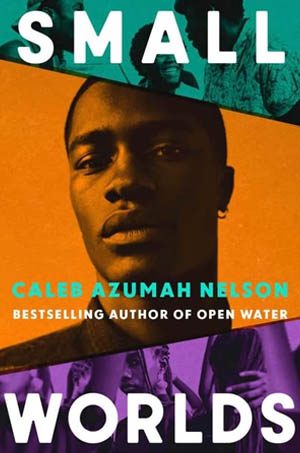 From the bestselling, award-winning author of Open Water comes his second novel about fathers and sons, faith and friendship. 
"Stephen has only ever known himself in song. But what becomes of him when the music fades? When his father begins to speak of shame and sacrifice, when his home is no longer his own? How will he find space for himself: a place where he can feel beautiful, a place he might feel free? Set over the course of three summers in Stephen's life, from London to Ghana and back again, Small Worlds is an exhilarating and expansive novel about the worlds we build for ourselves, the worlds we live, dance and love within."
Crook Manifesto by Colson Whitehead (July 18th)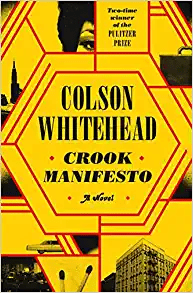 "Two-time Pulitzer Prize winning Colson Whitehead continues his Harlem saga in a powerful and hugely-entertaining novel that summons 1970s New York in all its seedy glory. CROOK MANIFESTO is a darkly funny tale of a city under siege, but also a sneakily searching portrait of the meaning of family.  Colson Whitehead's kaleidoscopic portrait of Harlem is sure to stand as one of the all-time great evocations of a place and a time."
Watch Your Language: Visual and Literary Reflections on a Century of American Poetry by Terrance Hayes (July 25th)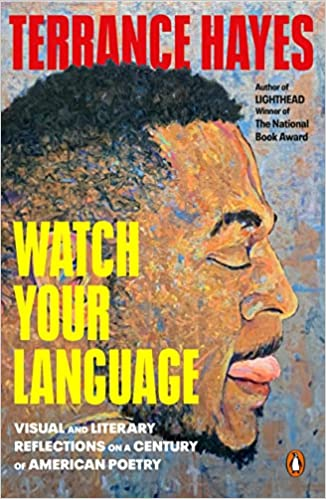 Terrance Hayes, National Book Award–winning author of Lighthead, brings us a compelling collection of illustrated prose, graphic reviews, and visualized poetics that address the last century of American poetry. "These astonishing essays, illustrated by Hayes himself, establish the roots of his own poetic influences and reconstruct modes of poetic engagement, demonstrating what makes a poem both move and be moving and illustrating how drawing itself can be a kind of critical, poetic discourse."
So to Speak by Terrance Hayes (July 25th)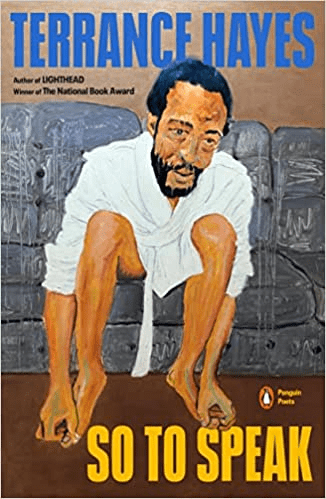 Along with Watch Your Language, Hayes is also releasing So to Speak, a dazzling collection of new poems. "A tree frog sings to overcome its fear of birds, talking cats tell jokes in the Jim Crow South, and a father addresses his daughter in the lyric fables, folk sonnets, quarantine quatrains, and ekphrastic do-it-yourself sestinas of So to Speak, Hayes's seventh collection. Bob Ross paints your portrait, green beans bling in the mouth of Lil Wayne, and elegies for the late David Berman and George Floyd unfold amid the pandemic. These wondrous poems are lyric germinations of the often-incomprehensible predicaments of the present, as Hayes shapes language into figures of music and music into figures of language."
Family Lore by Elizabeth Acevedo (Aug 1st)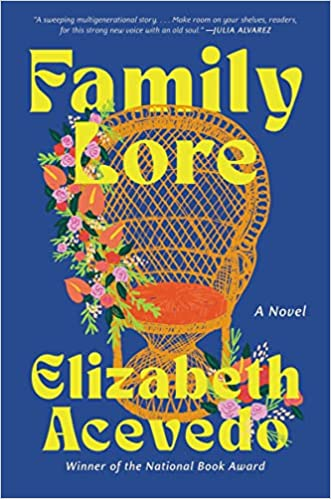 From bestselling, National Book Award–winning author of The Poet X, Elizabeth Acevedo's first novel for adults, Family Lore, is the story of one Dominican-American family that is told through the voices of its women as they anticipate a gathering that will forever alter their lives.
"Flor has a gift: she can predict, to the day, when someone will die. So when she decides she wants a living wake—a party to bring her family and community together to celebrate the long life she's led—her sisters are surprised. Has Flor foreseen her own death, or someone else's? Does she have other motives? Told with Elizabeth Acevedo's inimitable and incandescent voice, this is an indelible portrait of sisters and cousins, aunts and nieces—one family's journey through their history, helping them better navigate all that is to come."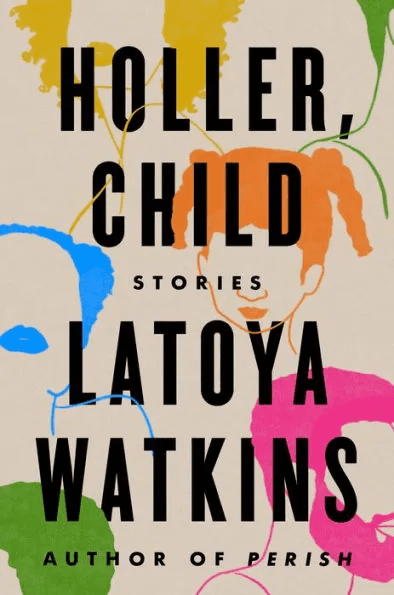 In this unforgettable, poignant short story collection, LaToya Watkins explores community, home, betrayal, and forgiveness.
"In Holler, Child's eleven brilliant stories, LaToya Watkins presses at the bruises of guilt, love, and circumstance. Each story introduces us to a character irrevocably shaped by place and reaching toward something—hope, reconciliation, freedom. Throughout Holler, Child, we see love lost and gained, and grief turned to hope. Much like LaToya Watkins's acclaimed debut novel, Perish, this collection peers deeply into lives of women and men experiencing intimate and magnificent reckonings—exploring how race, power, and inequality map on the individual, and demonstrating the mythic proportions of everyday life."